John Fry Memorial Award
04.22.2022 |Bill Madsen

The John Fry Award is presented annually to the fastest, most veteran racer at the NASTAR National Championships. The trophy is inscribed with John's name and, "For the Love of the Sport".
Robert Loftin of Seneca, SC earned the John Fry Award during the 2022 NASTAR National Championship for winning the 90+ age group. Bob had an untimely stumble getting out of the hot tub prior to the race that needed a few stitches, but that did not keep him from racing. We bumped him up to the platinum division so he had time to get back on his skis and he was eager to get in the gates. Bob is an inspiration to all of us that love to race and he is a worthy recipient of the John Fry Award.
NASTAR's founder was a force of nature, transforming the ski industry and dedicating his life to bringing as many people to the sport of skiing as possible.
When John Fry became the editor-in-chief of both SKI Magazine and Golf Magazine in 1969, he became driven by the idea of creating the equivalent of par in the sport of skiing. 
 
Adapting the French percentage-of-time system, he created a program he called the 'National Standard Race,' or NASTAR using the acronym. As in France, instructors from around the country would come together at the beginning of the season to rate their performance. Then they would return to their home resorts as pacesetters. The difference, though, was that in NASTAR the local pacesetter's time would be adjusted by the percentage it lagged behind the fastest time of the top U.S. Ski Team alpine racer of the year. 
 
In  Fry's mind, it would work as follows. If pacesetter Klaus at Mount Snow was originally three percent slower than the nation's fastest racer, and a Mount Snow guest was 20 percent slower than Klaus, then he or she would be about 23 percent slower than America's fastest skier would have been if he'd skied the Mt. Snow course that day. Presto! The skier would have a 23 handicap. 
 
The sport of skiing could enjoy the equivalent of golf's par! 
 
Since it was standard that a NASTAR course would be a simple open-gated giant slalom on intermediate terrain, a skier would know that on any slope anywhere, through a couple of dozen gates, on a surface that could be sticky or icy, it didn't matter, the rating would be valid. If he had a 23 Nastar handicap, he was seven percentage points better than a guy with a 30 rating.  A recreational skier could have a competitive experience on a 300-foot vertical Michigan hill equivalent to one at a Rocky Mountain resort.
 
Coincidentally, France adopted NASTAR's system of re-calibrating the local pacesetter's time twenty years after Fry created the standard.
 
To learn more about John Fry, read Moira McCarthy's article, In Memoriam: John Fry
Learn more about the history of NASTAR by following the links below:
How NASTAR was conceived Part 1
How NASTAR was conceived Part 2
How NASTAR was conceived Part 3
2021 John Fry Award Recipient:
After a season of working on his racing skills and enjoying every racing opportunity, as well as winning gold in the 85-89 Platinum Division at 2021 NASTAR National Championships, Charlie Hauser, an 85 year old retired doctor from Avon, was a presented with John Fry Award.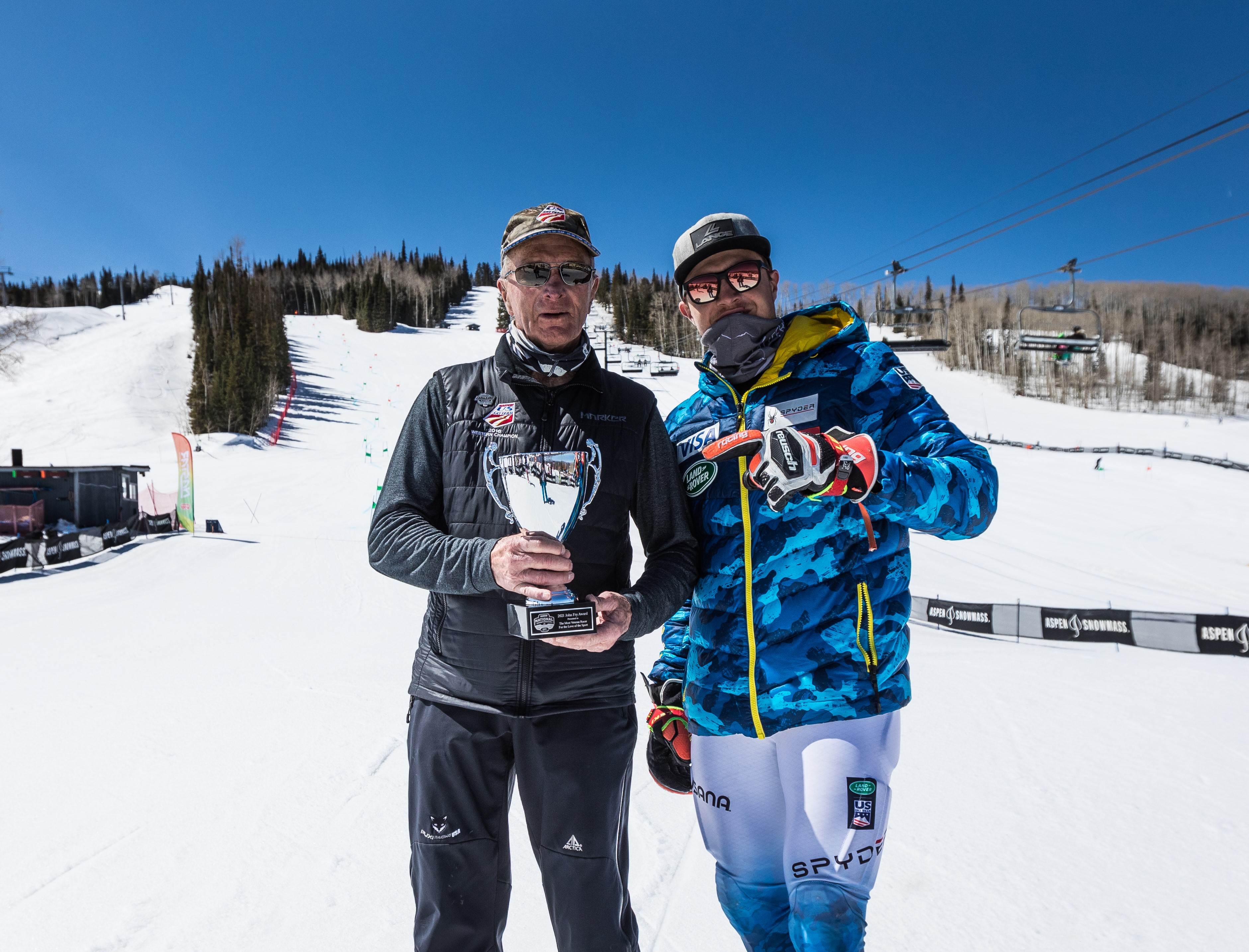 Charlie Hauser with Luke Winters