Winners of Past Nationals
03.07.2017 | Megan Ganim

Every year, NASTAR racers train and race with the intention of qualifying for Nationals, the pinnacle event of the NASTAR season. With tons of fun activities to partake in and bountiful numbers of ski racing athletes to make friends with, the best of the best come forward to flex their racing muscles in Steamboat Springs, Colo.
Last spring, Nationals brought standout performances from racers like Monique Hicks, a 35-year-old female who placed first as the overall female winner with the fastest discounted time. This year, she will be at Nationals with her 12-year-old son, family and friends from her home hill of Cascade Mountain in Portage, Wisc. "Winning Nationals was one of the coolest experiences I have ever had!" exclaimed Monique. "As I crossed the finish line and heard the announcer say that I had moved into the number one spot, I was shocked. It was a difficult run and I remember really trying to hold on and keep it in the course." Hicks was excited to be able to share her victory with her son, who she labels as her favorite ski buddy along with her friends, family and many other racers from the Cascade Ski Team. Every year, a large group of racers from Portage make it out west to celebrate the end of their ski season at Nationals. "The NASTAR Nationals experience, for me, is the grand finale of our ski season," said Hicks. "We get to go out west with our family and dear friends, have fun racing, get in some awesome skiing and have a great time."
Although Hicks is not yet registered to race at Nationals this year, she says that knowing herself, she likely will end up in the course.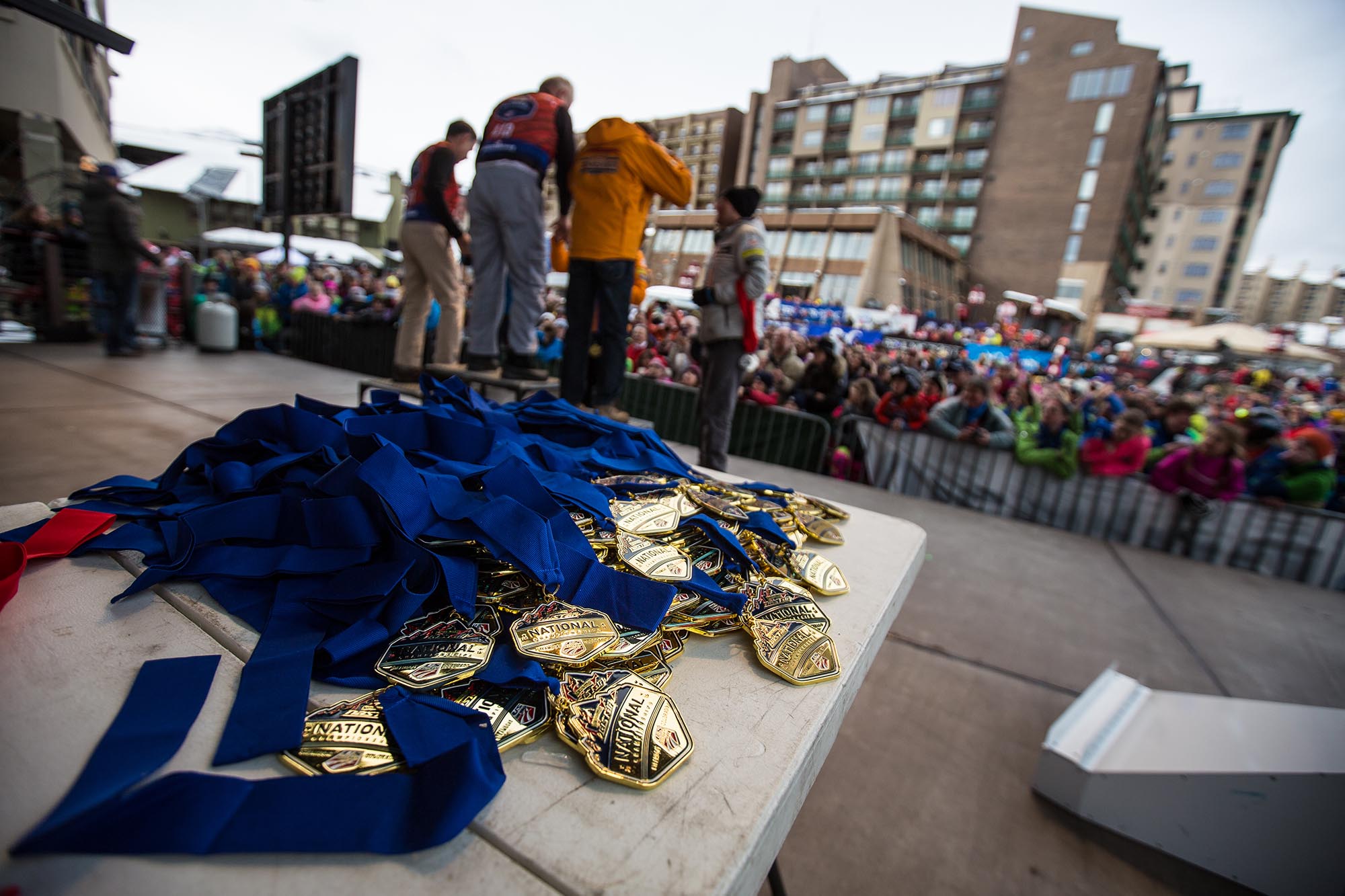 On the men's side, Braeden Hunt from South Dakota placed first as the overall male winner at the Race of Champions with the fastest discounted time last spring. Braeden's journey as a ski racer began at the age of four with his twin brother and NASTAR racing father, Michael Hunt, who began racing in the 1990s. In 2009, Braeden and his twin brother jumped in a NASTAR course and used their naturally competitive nature to push each other and continue to improve their racing skills. It wasn't until the 2011-12 season when Hunt qualified for the Race of Champions at Nationals after Ted Ligety gave him his medal for winning his division. He ended up taking 10th place and the flame was ignited.  Hunt was determined to find gold again. In 2015 during the Race of Champions, his twin brother and one other competitor ended up beating him, but Hunt wasn't done yet.
Although Hunt won't be at Nationals this year, last year was his time to shine. With goals of attaining a NASTAR top-tier status, he won the overall award. "An exhilarating rush came over me throughout the whole race, from the starting gate to the finish line. As I crossed the finish line, Bill Madsen (Director of NASTAR)  announced my name accompanied with the fastest-discounted time remark," said Hunt. "Not only was it amazing to finally achieve my goal of winning the National Race of Champions, but being congratulated by past and present Olympic athletes was icing on the cake."
One of the best accomplishments at NASTAR is winning the fastest raw time. Last year, 28-year-old Danny Elkins took home this feat racing in the platinum category.
Another highly sought after victory between snowboarders, telemark skiers, and adaptive skiers is the combined Race of Champions division; 56 year old Chris Berns won the division last year. The best part?  Berns is a long-time NASTAR racer in the Adaptive division. He is a "two track" skier from Bear Creek  who has won the adaptive division on six different occasions. 2016 wasn't his first combined Race of Champions win either; he's brought home the gold at least three times before.
It's a rare occasion when a NASTAR racer wins both the fastest raw time and the discounted time. Last spring, Emily Mires accomplished this on telemark skis. "On opening day at Beaver Creek, I broke my tibia plateau, which meant I couldn't race for most of the season and telemark skiing proved to be extra challenging because of the stance and positions," said  Mires. "I trained my way through it and had the best race of my life." NASTAR Nationals holds some of Mires' fondest memories. She's been racing at Nationals since 2011, and now  telemark racing has become  a huge part of who she is. "I started telemarketing when I was 10 years old and got invited to NASTAR Nationals the next year" said Emily. "I didn't know what it was and went for the fun of it and next thing I knew, I fell in love with it." For Mires, NASTAR is not something she will be letting go of anytime soon.
Winning both the discounted and raw time races has only happened twice before. In 2012, Abigail Murer won both. And in 2013, Ellie Peine followed her lead and took home the gold in both as well. Murer moved on to train with the U.S. Ski Team's Development Team in 2012. She had won the Race of Champion three times for the fastest raw times in 2010, 2011 and 2012.
NASTAR has been graced with so many amazing families, friends and racers over the many years of Nationals. It's a time to come together and celebrate the end of the ski season. This year's NASTAR Nationals is coming up faster than you'd imagine! If you haven't registered yet, you can do so here.