Background
Pacesetter handicaps are set at the regional pacesetting trials around the country where pacesetters earn Certified Pacesetting Handicaps. Those certified handicaps are are then added to the NASTAR timing software as part of the Pacesetter Database that is updated with the software's regular database updates.
To simplify the process of identifying pacesetters from your resort and setting the course Par Time you can associated pacesetters with a bib number (P1, P2 etc.). When these pacesetter bibs are entered the software automatically calculates the par time using the pacesetter's time and handicap.
These pacesetter bib numbers are specific to your resort and they are used when timing. You may have up to 30 pacesetter/handicap combinations (suit, coat or slalom).
 
Configuring Pacesetter Bibs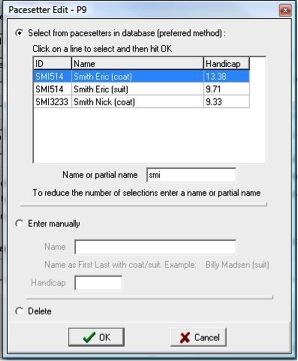 How to view the pacesetter configuration within the timing software:
Select the "Edit Pacesetters" option from the "Race Header/Pacesetters" page

Alternatively, choose "Edit" -> "Pacesetters" from the navigation menu
To add a pacesetter to the timing software configuration:
Click on a blank P column. A screen will come up allowing you to enter the Name or partial name of the pacesetter.
To remove a Pacesetter from your configuration:
Select the pacesetter's name

Put a mark in the circle next to delete at the bottom of the page

Click OK.
To enter a Pacesetter manually: 
Select the option to, 'Enter manually'

Fill in the name (along with suit or coat) and the handicap.

Note: Races received with manually entered pacesetters will be flagged and reviewed by NASTAR.
In the picture above you can see that the first three letters of the name Smith have been entered in the Name or Partial name box. Entering the pacesetter's name will reduce the size of the list to help you quickly find the pacesetter you are looking for. 
Note: Pacesetters have three handicaps. One handicap wearing a race suit, one handicap wearing a coat and a slalom handicap. The pacesetter's handicaps must be selected based on the clothes he/she is wearing. There is generally a 3-5% difference between the suit and coat handicaps.
 
Manually Entered Pacesetter Handicaps
Do Not enter pacesetters manually. If a pacesetter is not on the list they can be entered manually ONLY if a pacesetting handicap has been approved by NASTAR.
Entering pacesetters manually will result in your race getting flagged for review by the NASTAR web site. Because the pacesetter or the pacesetter's handicap are not approved, the race results may be corrected. Revising race results can be problematic because participants medal and a handicap received at the race may not be reflected online.
The integrity of the NASTAR program must be maintained by Certified NASTAR Pacesetters setting the Par Time. Pacesetters racing to the best of their ability is the only way to maintain NASTAR's National Standard.
Pacesetters that miss the pacesetting trials can earn a certified pacesetting handicap by racing against a certified pacesetter. Pacesetter handicapping requests must be submitted to NASTAR for review and approval.