Where Masters and NASTAR racing overlap
03.10.2017 | Lisa Densmore Ballard

As NASTAR settles into its second year as part of the U.S. Ski and Snowboard Association (USSA), it looks to the Masters circuit as a ripe source of recruits. By coincidence, the Masters are doing exactly the same. But cross-pollinating these two types of ski racing could be like mixing polar bears and grizzly bears. They're both bruins, and a few share a common habitat (mainly in the Central Division), but they are different species. Over the last six months, both groups have brainstormed together and apart about ways they can and can't mix.
Masters Mentality. If you're worried Masters racing might change their ways and trend toward NASTAR, that's not the case. The USSA Masters committee has no intention of turning the circuit – which competes on World Cup-style courses in all four ski racing disciplines – into a series of short GS sprints with the occasional slalom through a stubby course. Instead, the committee hopes to persuade the 18,000 NASTAR gold and platinum medalists over age 18 to take their ski racing to the next level.
"It's a natural progression to move from NASTAR to Masters," says Bill Skinner, USSA Masters coordinator and a standout racer in Men's Class 8. "The Masters have speed events and longer courses. It's a way to improve skills and have a lifetime of ski racing challenges."
Skinner views NASTAR as an important entry point into the sport of ski racing for adult recreational skiers. For starters, the courses are much easier. NASTAR doesn't require membership in USSA and the other accoutrements of Masters racing, such as race-specific skis, a speed suit, high-tech ski tuning, and an International Ski Federation (FIS) approved helmet and other protective gear.
"It's so much easier than most Masters racing, which is why you don't need the FIS helmet," says Skinner, "Pay [a couple] bucks, and you're in. NASTAR and the Masters work together as a progression, at least at first, but it can also be back and forth."
Faster through NASTAR. Skinner, who is based in Park City, Utah, and who coaches the Park City Masters program, sometimes heads to the resort's NASTAR arena for training. He's not alone. Many Masters racers around the U.S. practice on NASTAR courses because it's inexpensive, and you get timed every run.
"It can be difficult for Masters racers to find training," says Bill Madsen, director of NASTAR, "NASTAR offers that opportunity. It's a public venue. It's already set up, ready to go, and you don't have to close a trail or lug around gates and drills."
To Madsen, the chance to take multiple timed runs on the same course teaches skiers to go faster. "Sometimes you feel fast, but are you?" asks Madsen. "Speed is a product of technique, but only to a point. It's mind-boggling how some people go fast even though they're not good skiers. But they've got desire! If that's not natural, NASTAR helps by giving you direct feedback each run."
Madsen also stresses how having lots of chances to be timed helps reduce race-day jitters. "NASTAR puts you in a race situation," he says. "If you train with a clock, then you'll panic less when the clock runs for real."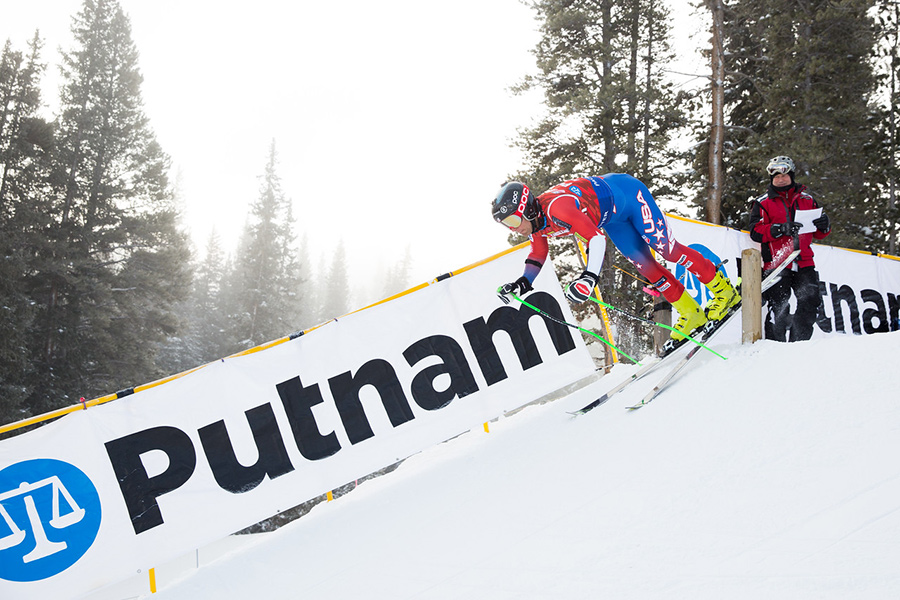 Transcontinental Comparisons. Another reason for Masters to hop into NASTAR races is the chance to compare themselves with rivals across the country and with athletes on the U.S. Ski Team. USSA Masters racing does not currently use a point system to assess ability level and assign rankings on a broad scale.
"With a common scoring system, racers at different ski areas can talk shop," says Madsen. "It connects more people to ski racing. People across the country can compare themselves without getting in the same starting gate."
The Midwest Masters (Central Division) already score their races both for NASTAR and USSA-sanctioned races, and will join NASTAR as a club this year. Other USSA divisions are looking at this, as well, though it essentially entails creating two separate sets of results for each run – one for USSA and the other for NASTAR. Current timing software cannot combine the two, and the expense to create new software is high.
Despite this hurdle, the Masters circuit and NASTAR are still finding ways to support each other. Their newsletters cross-promote and cross-link to each other's websites. A number of racers from the Masters circuit attended NASTAR's national pacesetting trials on November 19, 2016 at Copper Mountain. Internally at USSA, the organizing groups have access to each other's databases, and both circuits are hoping racers from one will attend the other's national championships in March.
Masters ski racing and NASTAR are certainly different breeds, but strengthening the ties between them will be a benefit to all adult ski racers.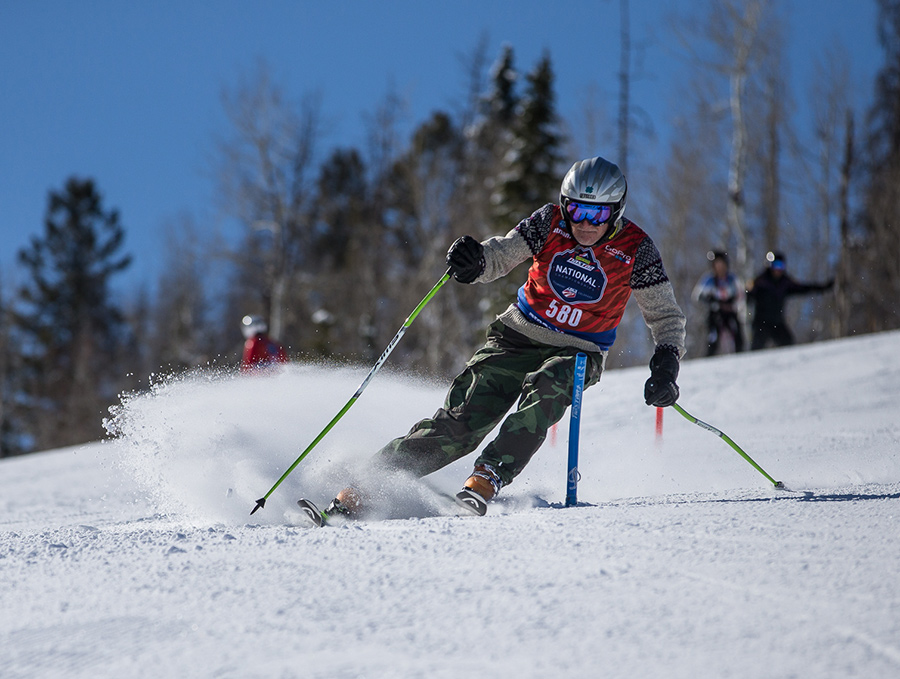 Making the Move From NASTAR to Masters
If you're a NASTAR racer who's thinking about trying a Masters race, here's how:
Join USSA. Sign up for an annual USSA Masters membership ($90) or a Short Term License ($15 per day) here. STLs accumulate credit toward a full membership. The USSA number assigned to you either through a Masters membership or an STL is yours for life. To participate in regional or national Masters championships, you must be a member of USSA with a current Masters license.
Register and pay the entry fee. Most Masters race registrations are done on-line through SkiRaceReg prior to race day. Information about the race can usually be found there, too.
Get a FIS-approved helmet: If you're planning to race in a Masters GS, super G or downhill, it is strongly recommended that your helmet is FIS approved.