Ted Ligety on Fatherhood and Pursuing the Dream Post Injury
11.12.2017 | Megan Ganim

This season is Olympic season and nobody knows that better than NASTAR's National Pacesetter, Ted Ligety. With a monumental year in the pipeline, Ted is now the father of a baby boy, he owns and operates his own ski accessory company, and all of this while having nursed a back injury last season. He was planning his first comeback at the season opener in Soelden, but when high winds and dangerous conditions canceled the race, fans were left itching to watch Ted shred. Looks like we'll have to wait until the Super G at Lake Louise! We caught up with this ski racing phenom and picked his brain about being a new father while on the road, the season ahead and of course, NASTAR. 
Let's start with Soelden....Were you prepared to win at Soelden?
Ted: I was feeling good. I feel like my skiing is really in the right spot and I feel like the days leading up to that I was starting to gain some speed and skiing in a good place for the first time in a few years and really starting to position things.
How is your back feeling?
Ted: My body is way better than it has been with no real issues and I'm as healthy as I can be.
What was that process like for you mentally with the injury?
Ted: Having a chronic injury is a lot worse than having an acute injury. I could ski with the injury but not through to the level that I wanted to. It's hard to make the decision to pull the pin when you have a World Championship season ahead and want to be out there racing. As the weeks passed I was finishing 11th, and on a bad day it wasn't possible for me to finish at all. That's not the place that I wanted to be in. Skiing under pain is less fun than being healthy. It was hard to miss out on a World Championship and World Cup season.
Obviously, you're a father now and that comes with responsibilities of its own. What's it like for you to be a new father to Jax and a pro athlete?
Ted: Being a father is a totally different world. It's changed my life more than anything ever. It's harder on the time management side and when you can't spend more time with him and get to see his growth and development that can be hard. When I was in NZ, I missed him so much especially when I realized I'd come back home and he'd already have changed so much. It's hard to take that.
It's nice to be able to come home from training in the summertime or on the hill here in Copper and he has his smiles and mannerisms about him and that's rewarding. I value having them on the road with me. It's a good way to get away and escape from the grind of trying to go fast and ski and workout all the time. You come home and he doesn't care!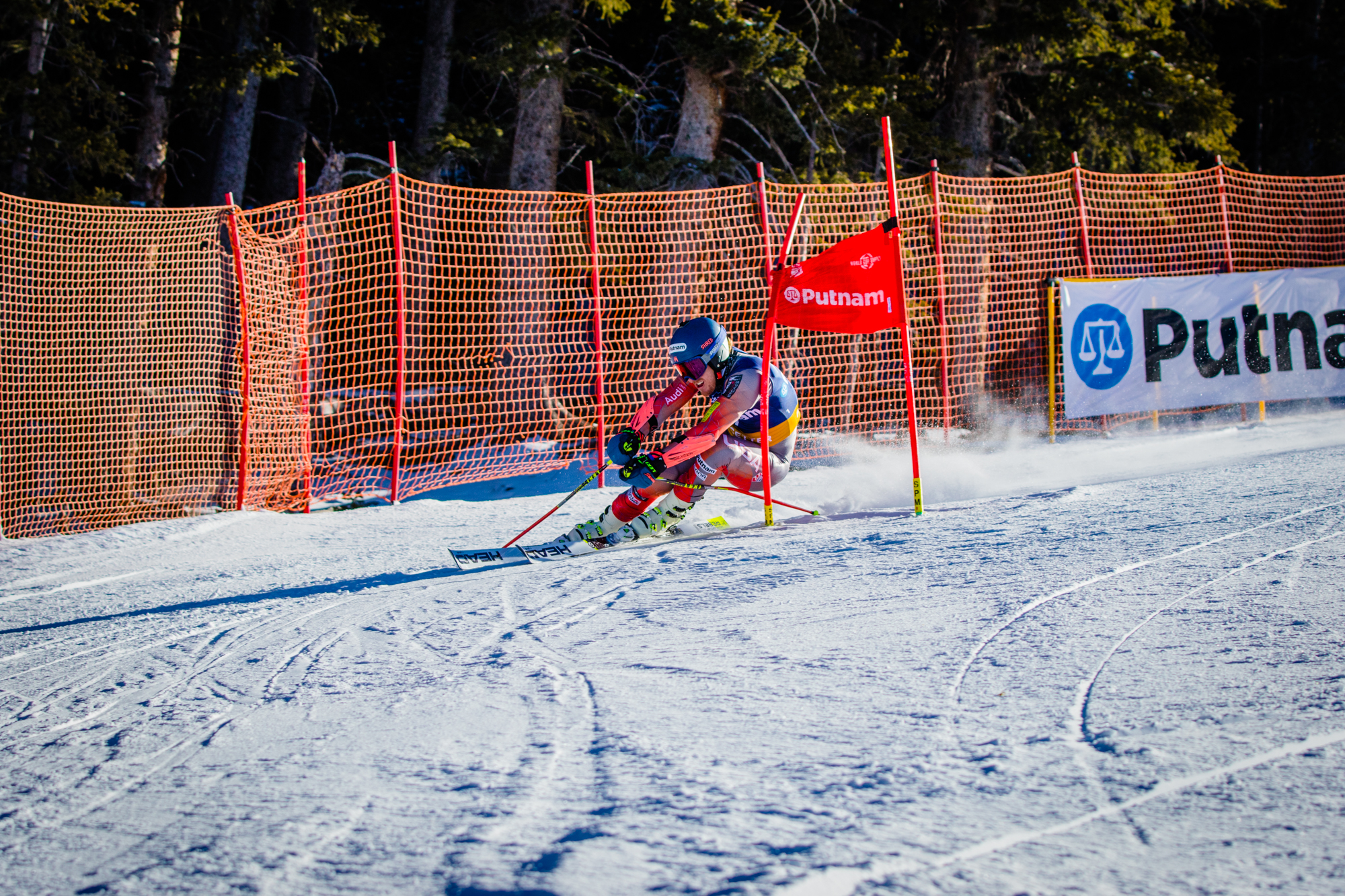 How do you balance being on the road while getting family time in?

Ted: In New Zealand, we were facetiming two times a day and my wife would send me daily pictures and I would talk to him and look at him as I'm talking to my wife on facetime. That's cool but doesn't replace the real thing. I've always juggled a lot, having my own company and this makes it tougher. I don't know the last time I had time to watch a show on Netflix. In New Zealand, I was able to read but when I was with him in Soelden and here you hang out with him and then you go do your work while he's asleep. It's like a really fun process but not like the normal ski racer who might have chill time. It's a positive thing and it keeps you focused. It makes my time on the hill and the gym really focused. You want to make that time valuable and give back to him as much as I can.
What are you looking forward to about the Super G at Lake Louise?
Ted: I've always liked the race at Lake Louise. For not being a super technical hill, it's actually one I've done pretty decently on and it helps me get back to the groove of skiing speed. It's good preparation for Beaver Creek and seeing some race elements that show in a really high level at Beaver Creek. [Beaver Creek] is a race in which I put a lot of importance on. It's a good way to get things rolling and it's been a couple years since I've done it through injuries.
Talk to us about NASTAR...
NASTAR was my first entry into ski racing. It's the first time I got into a GS course and it was racing NASTAR at Deer Valley. I was probably five or six years old and raced head to head against my parents and then to be able to go out there and race against friends was really cool. NASTAR is most kids' first intro to ski racing and having the experience of racing gates and ultimately deciding if that's something you want to chase after when you get older. It's the biggest introduction to ski racing that there is!
What's your favorite part about NASTAR?
I think NASTAR is neat to see ski racing at the grassroots level. To see families from five years old to eighty-year-olds is cool and their passionate and it invigorates your feelings toward ski racing and to see such diverse and loving people be competitive and challenge themselves is special. It's neat to see that it's not just your FIS kid out there, it's a full range of kids. A six year old might have a downhill suit on and it's as baggy as a ski jacket would be and then you've got the old guy with his gut in a downhill suit out there too. It's neat to see people pushing and standing out near the timing board and it's cool to be able to be a part of it and to watch.