The Schlopy Family NASTAR Tradition
12.05.2017 | Megan Ganim

For many families, the limiting factors to participating in competitive ski racing are time and money. Traveling to races around the country, coupled with the associated expenses, requires a huge commitment. Another factor that casts a shadow on some interested participants is accessibility. Former U.S. national team athlete, All-American and member of a ski family powerhouse, Fritz Schlopy has been able to offer his Houston-based family a taste of competition on snow through NASTAR.
"Doing a full U.S. Ski & Snowboard race program is a little beyond the time commitment my kids can make from Houston," explained Fritz. "NASTAR fits perfectly for us. You can jump right in, it's quick, and you can test yourself without having to show up at 8 a.m. It gives us a lot of flexibility to pursue something [my kids] enjoy but don't get to do from Houston."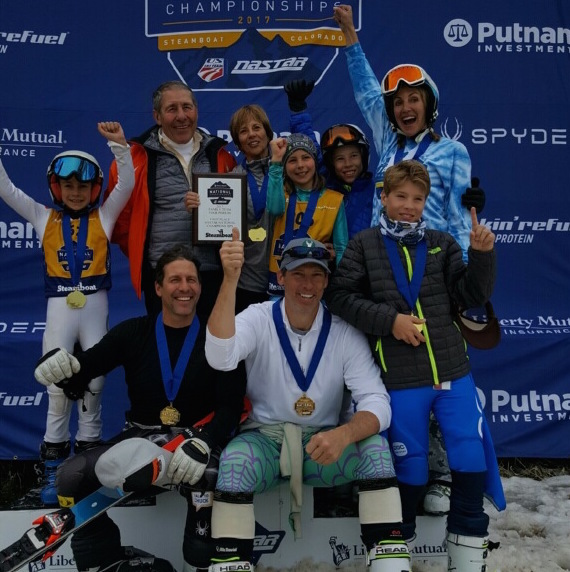 Fritz and his cousin Erik Schlopy, former U.S. Ski Team member and three-time Olympian, grew up racing in Buffalo, N.Y., at a local hill called Kissing Bridge Ski Area. Fritz's wife and two young boys now live in Houston and often travel to Park City, Utah to visit Erik's two boys and his wife, Summer Sanders, a former Olympic swimming gold medalist.
NASTAR provides an opportunity to connect multiple generations of family and friends via sport. Both men agree that seeing Erik's 71-year-old mother Marny compete in the NASTAR Nationals family race alongside her grandkids was a highlight for all.
"She was so excited to race as a family," said Fritz. "Here's a woman who, for the last 50 years, has been supporting her kids and going to races volunteering as a gate keeper to support what Erik and I did, and this is the first time she got to ski gates herself. It wasn't about her family; it was about her. I got to be the person who cleaned her skis and inspected the courses for her. The opportunity NASTAR provides is a great way for Erik and I to give back to our family and make them feel special."
Breaking down barriers by eliminating long-term commitment and inaccessibility from the equation, NASTAR serves as a feeder system for the Schlopys to organically inspire their families with the love of ski racing they each developed at an early age.
"We want them to discover the sport on their own and find the love for themselves, and they sure do love NASTAR," said Erik. "If I pushed them into ski racing early, it would have backfired. They're doing it because they want to. Summer and the kids got to discover ski racing with me which is fun because I was their teammate and coach and gave them tips, watched and then cheered for them."
While both Erik and Fritz's kids are begging to race more NASTAR, even Summer Sanders has been vying to get her handicap as low as she can.
"You'd think she's 10 years old and going to Disneyland," laughed Erik. "That made me happy, and the kids felt that energy, and we started looking forward to NASTAR as a family."
Erik's kids will join the Park City Ski Team this winter for their first season and have NASTAR to thank for providing a bridge into a more competitive arena. Even more importantly, they have the Schlopy family as a support system behind any move they make.
"I think NASTAR has created a tremendous opportunity for people to stay connected to a sport that they're passionate about," said Fritz. "You can't play football when you're 50, but you can ski."