Pacesetter Stories: The Ups And Downs Of Life On The Road
02.24.2022 |Paula Moltzan

Road life isn't always glamorous...
Throughout the winter traveling Europe, I am lucky enough to see so many incredible places, but it all comes with a cost. An almost inconceivable amount travel is being done for us to get from race venue to venue throughout the tour. Eight-to-nine-hour drives are not out of the ordinary and neither is traveling with 3-4 fully loaded 60+ pound duffle bags of clothes and gear. It can get rather crazy moving to each new location, but in the end, there is some semblance to it signifying the start and end of each small chapter during the winter.
My fiancé Ryan and I travel in a Volkswagen Transporter van that holds all our clothing, gear and equipment. Ryan takes care of carefully loading, unloading and packing the 30 pairs of skis like a game of Tetris in hopes of being able to see out of the back window of the van. That comprises the bottom half of the car, skis and tuning equipment. On top go the duffle bags and backpacks with ski gear, clothing and boots. The process takes roughly 20-30 minutes now that we have it down to a science in our rental car we have dubbed "Bruce" for the winter. After the car is loaded, we are off to the next hotel.
Upon arrival at the next location there are always a few questions that need to be answered first before unloading and moving in. How many days are we staying at this hotel? Is the hotel big enough to fit all our bags or just the necessities? Where is the ski room to unload the skis? After answering those we know what can be unpacked and what can stay, it's a constant game of packing which forces you to be extra organized.
The whole process can seem overwhelming, but being without a permanent home all winter, our belongings and the van slowly have begun to feel like home. At each new hotel I try to make the room feel as much like home as possible, whether that is by lighting a familiar scented candle or laying out my clothes in the same order, it feels good.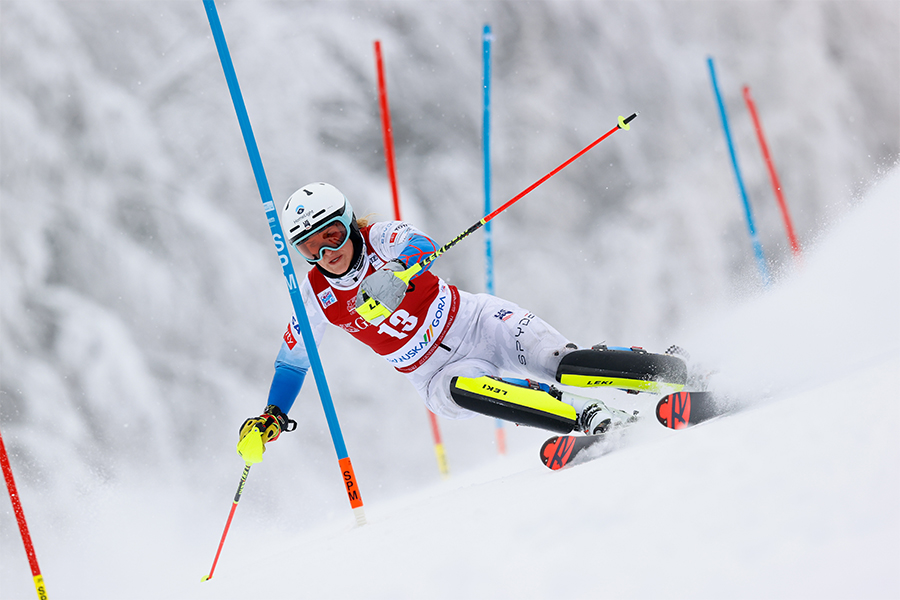 The toughest part is always eating in a restaurant. Imagine eating 90% of your meals out for 6 months. At first it sounds awesome, especially if you don't love cooking or grocery shopping. But it can get monotonous never being in complete control of what the meal is or how it's being prepared. Although, we do get to try so many different foods, which for myself personally, has made me less picky. I didn't eat red meat for the longest period of my life. Why? I'm not totally sure. I had decided when I was young that I didn't like it, and that was that. Alas in Europe they love red meat. Beef and venison are staples of many European dishes. After many years of trying to eat around it and being upset that I didn't get enough protein, I have started eating red meat again and have begun to enjoy it.
Embracing the travel lifestyle and immersing yourself in the cultures you are present in is important. As a guest in every place we go, it's important to be open to new things and immerse yourself in their culture. It feels much better to be positive and embrace things rather than complain and try to work around them. The season is long, and I need to save as much energy as I can to focus on ski racing. Enjoying the experiences and trying so many new things is one of the many perks to the lifestyle I am fortunate to live. I wouldn't trade what I do for anything, but it is not always a glamorous ski vacation moving from resort to resort all winter.