Pacesetter Stories: A Series of Unfortunate Events
01.20.2022 |Paula Moltzan

A series of unfortunate events BUT with some positives…
What happens when FIS schedules 8 women's tech races in 4 countries in a 21-day period? Well, let me tell you it has been quite a whirlwind series of events.
Flash back to December 14th, one week before this streak of races begins. I hit my hand on the base of a gate and ended up injuring my wrist. The pain was excruciating, but nothing showed up on original x-ray's and it was diagnosed as a bad sprain. I continue to prepare for the GS race in Courchevel by taping up my wrist like a boxer to try and stabilize it. However, the tape didn't negate the pain like I was imagining in my head. 
December 21 began the crazy race schedule at our first stop in Courchevel, France. To my surprise with a hurt wrist the races went much better than expected. The pain was mostly manageable minus pushing out of the start gate. I ended the race series with two of the best GS results of my career.
After Courchevel we head to Italy for a short Christmas break. The "break" was quite relative - two days of rest and then back to training on Christmas day. At this point my wrist wasn't feeling any better than it had since the injury, which was concerning. The medical staff and I decided that on our way to the next World Cup races in Lienz, Austria it would be smart to get some more imaging done in Innsbruck, AUT to further assess the damage. Come to find out I had been skiing with two fractures in my wrist. The pain was making sense... and the cherry on top- my head coach tested positive for covid the same day. 
The next race series in Lienz was tough because of the wrist pain again, but we became hyper aware of covid after the positive case. Wondering who would be next, it was a stressful time. The GS race went alright despite a big mistake, but the slalom was the real test. I hadn't skied any slalom for more than two weeks because of my wrist. With no training I pushed out of the start and made it to the finish twice; surprising myself that I would be able to ski through the pain of blocking the gates with a broken wrist.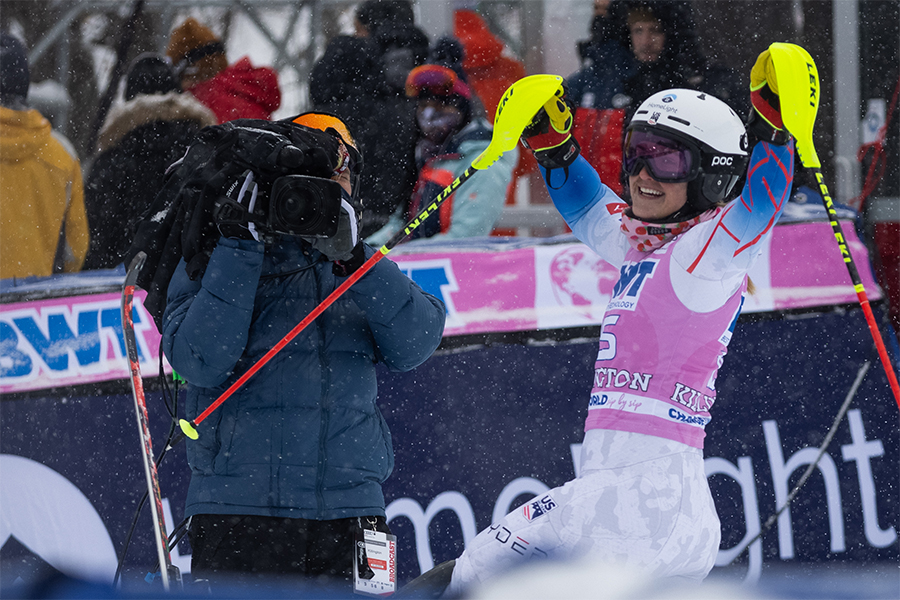 Happy that I was able to compete with the fractured wrist, we made our way to train for our next slalom race. But things began to fall apart when more athletes and staff came down with covid. One of my teammates and another staff tested positive the night after the slalom in Lienz. Then we began living in fear... 4 days later my fiancé Ryan tested positive along with my other teammate. 
I was alone without a coach, teammates, and fiancé. Ryan tunes my skis and helps carry/shuttle around my equipment which can be quite a feat at some of the venues. With some extraordinary effort by other staff members to help me with my equipment I was able to race and have a result of 11th place finish in Zagreb, Croatia. 
Three days later we were racing in Kranjska Gora, Slovenia. Still without Ryan, but back with my head coach I was making it happen on race day. I had a solid first run and was excited for the second. I ended up taking a huge crash and hurting my wrist and knee. The wrist was old pain but the knee… that was new. I could barely walk that night, but knew I needed to try and race slalom the following day. Pain medications were my friend, skiing seemed like a challenge. In pain I pushed through two race runs, I was happy to make it to the finish line twice and end up tied for 13th place. 
With one day in between we headed to Austria to race the Schladming night slalom. Night races are always long days but this one was especially long because we had a hill free ski at 10 am, training at 2 pm, and first run start at 6:45 pm. The first run felt like something out of a dream because the snow was so incredible. I was able to ski my own line in the course and not the predetermined rut from the skiers previous. I was more than ready for second run, but slalom will be slalom and I unfortunately straddled 1/3 of the way through the course.
Ending the streak of races on low note, but I must remind myself of the good skiing that happened and also that is still to come.