National Pacesetting Trials '18
11.13.2018 | Bill Madsen

The Liberty Mutual Insurance NASTAR National Pacesetting Trials were held under clear cold skies at the U.S. Ski Team's training center at Copper Mountain, Colo. Ryan Cochran-Siegle and Laurenne Ross are NASTAR's National Pacesetters & spokespeople and RCS set the Par Time for 2018-19 NASTAR season.
Our regional pacesetters; Daron Rahlves, Marco Sullivan, Jake Fiala and Claire Brown were racing to earn their handicaps for the Regional Pacesetting Trials and the young guys on the downhill team were just excited to race! It was really fun to watch the young guys go after it.
Jared Goldberg had the fastest time after the first two runs, but NASTAR is not always a traditional two-run race. Public NASTAR race courses at 100+ resorts are generally open during a set time of day and participants can take as many runs as they want while the course is open.
At the NASTAR Regional Pacesetting Trials each race is a jam session where pacesetters have an opportunity to take as many runs as possible during a set time frame. RCS, Jared, Laurenne and some of the others took two runs and then did interviews and had their picture taken. Sam "Moose" Morse, former NASTAR National Champion Kyle Negomir and Wiley Maple headed back to the start with Daron Rahlves and it was on! On his fourth run, Moose posted a time that was two-hundredths of a second ahead of Kyle to take the win.
The race took place on the very top of the speed venue at over 11,000 feet in elevation. We saw four inches of new snow the night before the race, but the venue had been injected twice the previous week and the course quickly got down to a very, very hard surface. RCS said, "My goal for the day was to not let Daron beat me!"
D$ is still one of the most competitive guys on the hill and he kept pushing the pace for young guys and encouraging them to take more runs.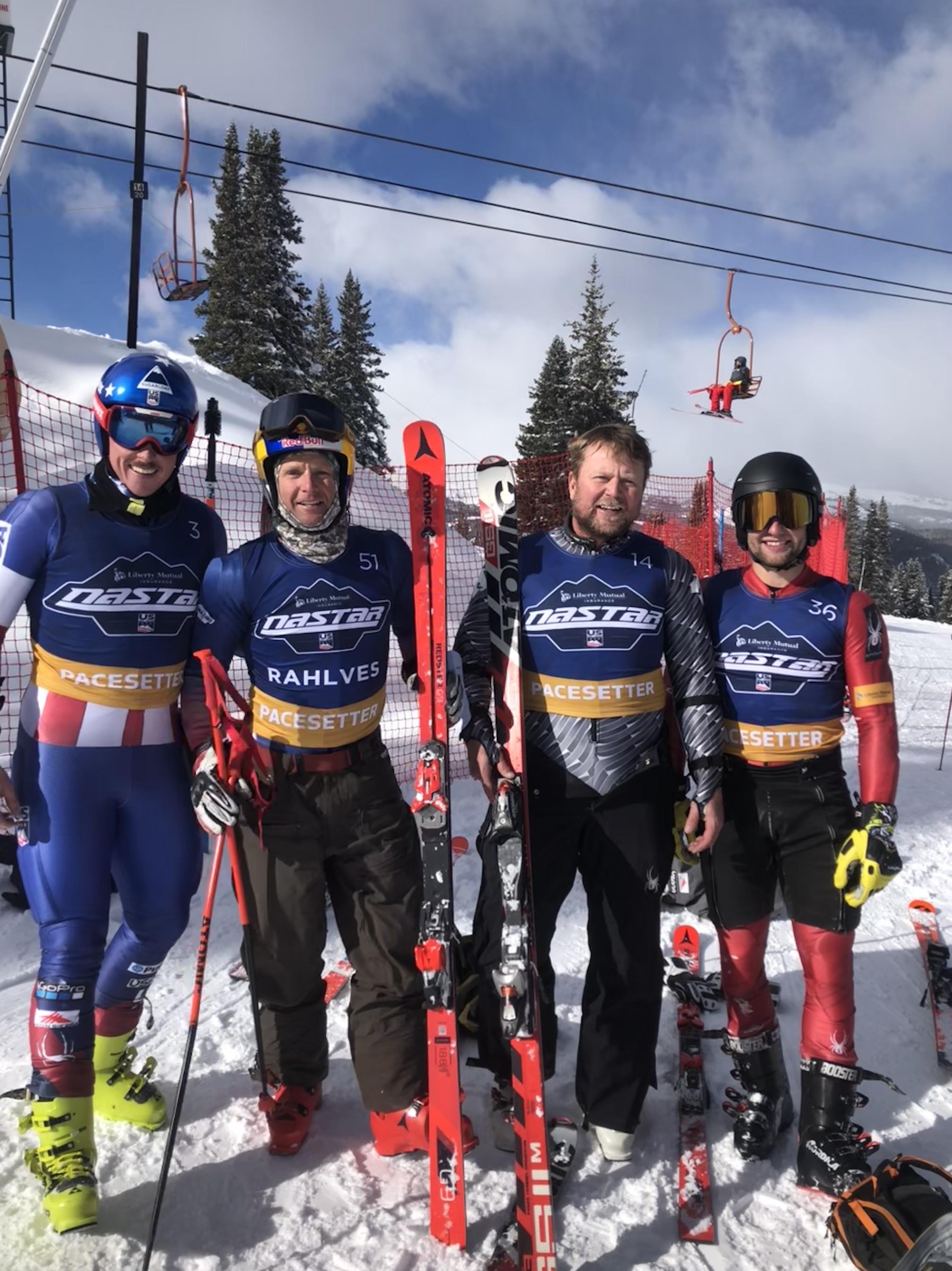 Sam "Moose" Morse, Daron Rahlves, Jake Fiala & Kyle Negomir
National Pacesetting Trials 2018 with the U.S. Ski Team