NASTAR Nationals: The Heart and Soul of Ski Racing
04.17.2019 |Megan Ganim

The heart and soul of ski racing. A statement our staff at Ski Racing Media found themselves repeating over and over again without fail this year at NASTAR Nationals. The ardent familial bond that ties this sport together begins with roots seeded in the handicap system and blossoms at the season finale. NASTAR is grassroots ski racing, it's fresh and contagious, it's thousands of smiles at the bottom of a race course, it's beaming faces stripped down to their speed suits in the middle of a Tahoe slush storm. It's the glue that fastens the sport of ski racing together with each buoyant character culminating into one heck of a good time with a side of competition.
Squaw Valley is infamous for epic vertical terrain and most often, the springtime brings bluebird days and warmer weather. This year was not quite warm or bluebird, but the terrain was still epic. In fact, the race venues at Squaw offer up some of the more tough and challenging hills that many NASTAR racers have ever broken the start gate wand on. Each venue, Red Dog and Julia's Gold, have multiple pitches to prepare for and the ruts were absolutely out to play. It's a winter snow sport, we can't expect anything less!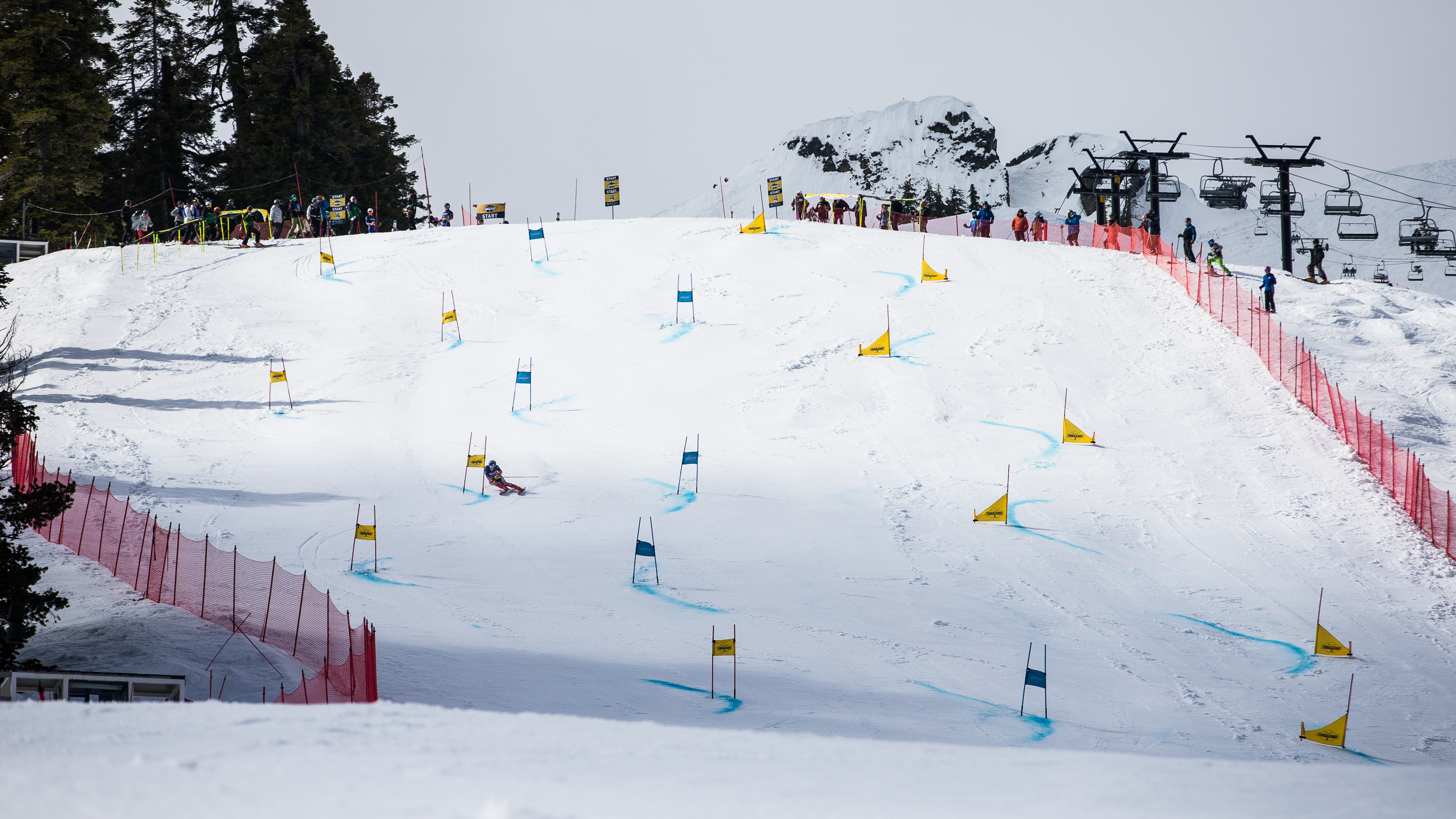 This year, we saw nearly 600 NASTAR racers and even more families and friends who travelled as far as the East Coast and Canada to support their racers. The Olympic Village at Squaw Valley throughout the week was buzzing with NASTAR Sponsors and vendor partners, live music and a few flurried snowflakes in the air.
"I think my favorite event at NASTAR Nationals is always the Family and Team Races, it's hard not to smile when you see three generations lining up on a podium," I heard somebody tell their partner as I scurried toward the main stage to catch the awards at the end of the day on Saturday. The Family and Team races took place on Thursday, the day after the slalom races and the day before official "day one and two" began. Families are able to enter in as groups of two, three, or four and up, and it's not uncommon to see a grandfather racing alongside his son and grandson or granddaughter. Just as much as our staff at Ski Racing Media caught ourselves saying, "NASTAR is the heart and soul of ski racing", we'd end many conversations with "well, that's just the beauty of NASTAR now isn't it!"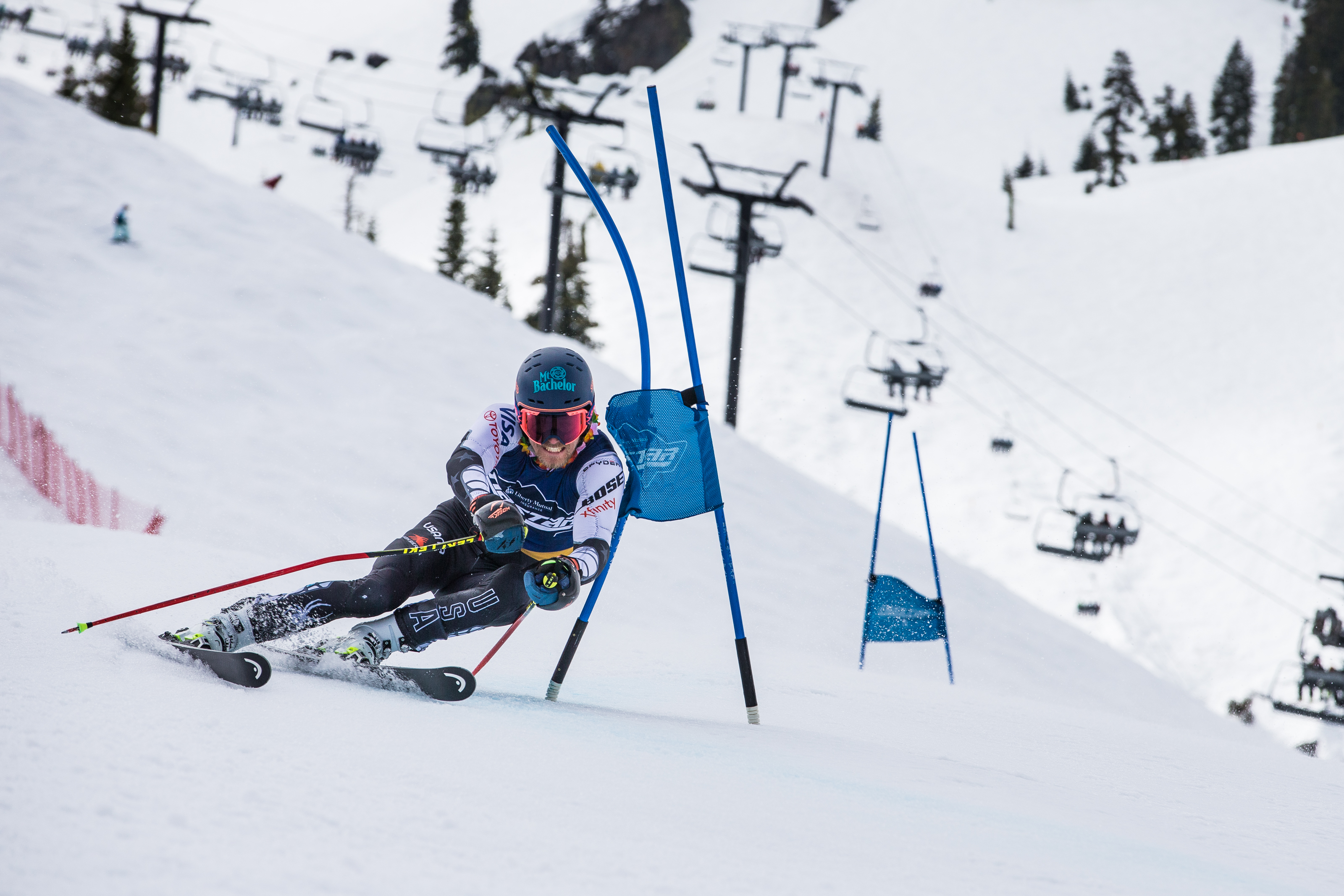 In the family of four or more Team Race category, Olympian and NASTAR National Pacesetter, AJ Kitt got to see his family, made up of his wife and triplet children, win the gold. Close behind them in second place with three generations racing, was the Cameron-Moore family from Calgary. In third place was Team Super made up of 6 Superczynski family members all from Maryland.
To view all family and team race results including families of two and three, go here.
"Over the years I've gotten to know a lot of people who I see at Pacesetting Trials and once more at Nationals and it's become a nice tight community," said National Pacesetter AJ Kitt. "The last seven years my own fam has begun to race. I brought my son to Snowmass five years ago and now we come [to Nationals] every year as a family and have a great time. My wife, Amy, races now which is fun and the Family and Team races are really cool. It's become less about me now, and I get to watch my family evolve as ski racers."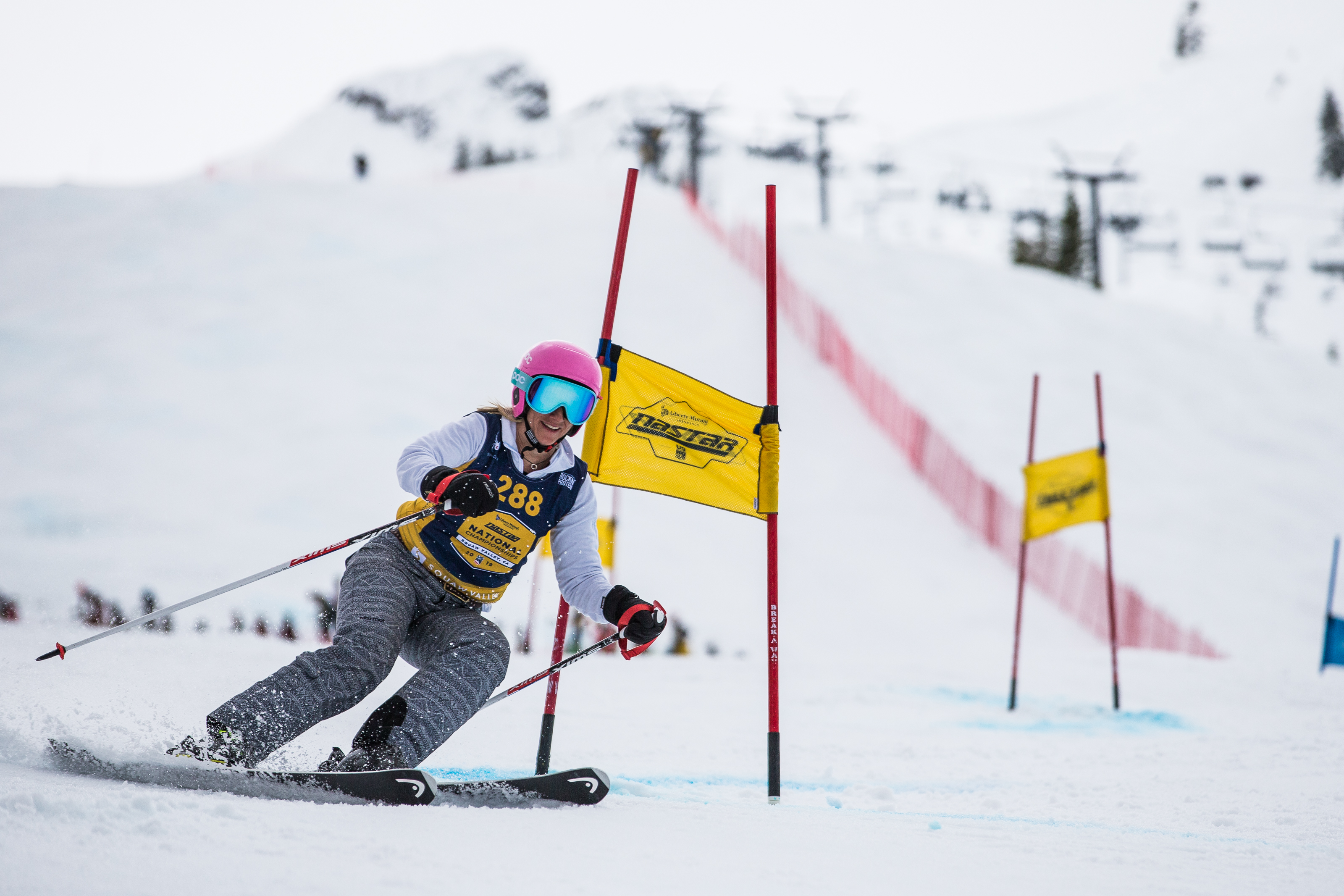 Olympian and National Pacesetter Marco Sullivan spent a good chunk of his winter traveling the NASTAR tour setting pace across the East Coast and Midwest regions. For Sullivan, Nationals has not been the only time he gets to live and breathe the spirit of NASTAR.
"I see kids and their parents ripping it up and sometimes the grandparents are there too and to see everyone race the same course with different handicaps and ultimately compare themselves against each other and then again compare themselves against guys like myself who have raced for a living for a long time, it's a really cool way to introduce ski racing to the masses," explained Sullivan. "Hopefully it's an introduction for a kid who wants to move up the ranks or maybe it's just a way for a family to have fun together."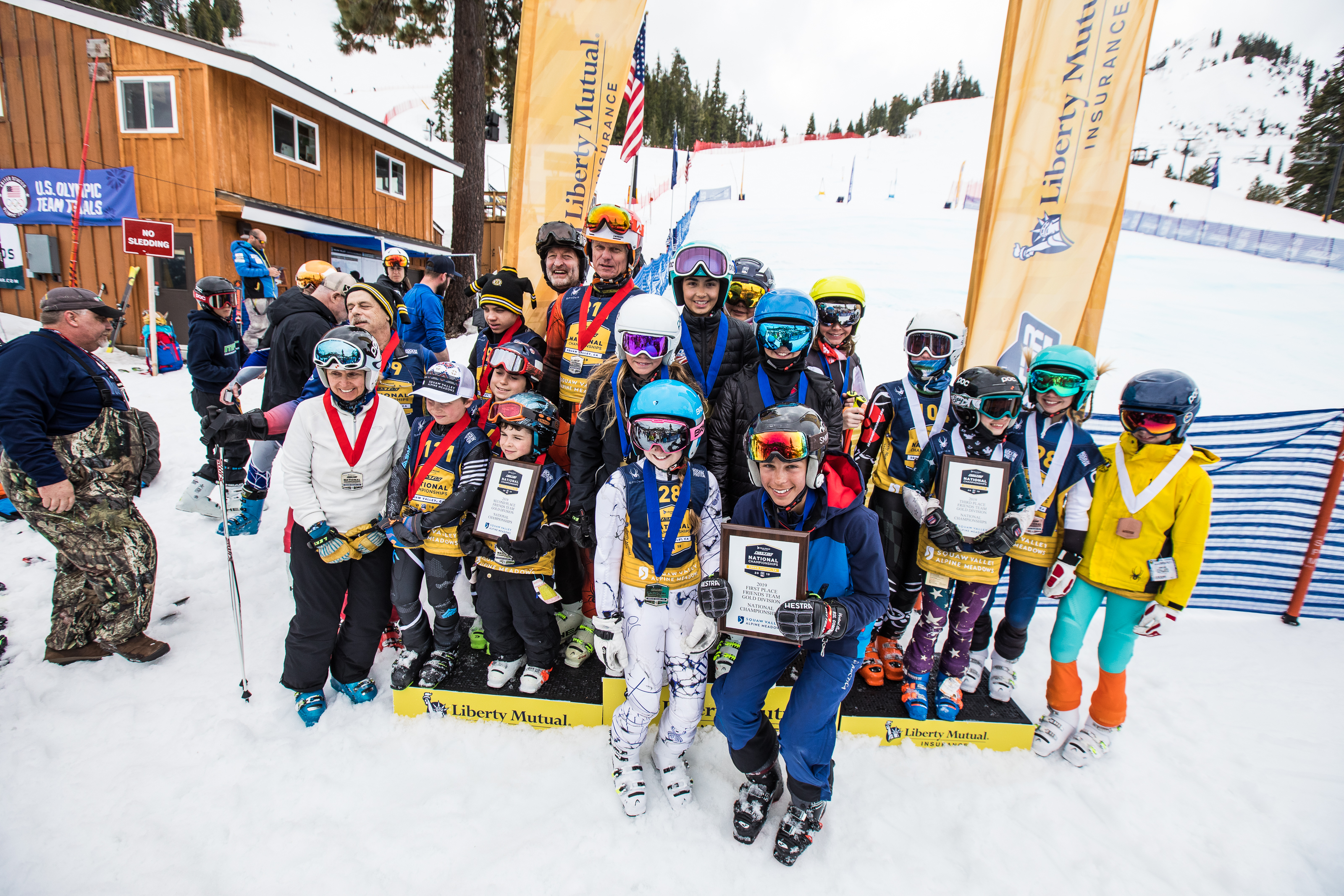 There were plenty of standout star racers at NASTAR Nationals, but interestingly enough on Sunday during the Race of Champions, both men's and ladies podiums were dominated by young kids between the ages of six to twelve years old. This made for an entertaining final NASTAR event. 
Speaking of the Race of Champions, this race is the crescendo of an entire week of racing and is the embodiment of how NASTAR racing works. This race is the final handicapped race and each winner from their respective age and ability group goes head to head and is scored based on their handicap. The race is a winner-takes-all format and during each discipline's race, the competitor with the fastest handicapped time climbs on top of the podium until they are bumped off by a faster (handicapped) time. It's a great race to watch as a spectator as well, it's the best-of-the-best going head to head and in the end, ranked on the handicap system.
The fastest racers are also recognized and Andrea Pizzini, racing out of Birmingham, Alabama in the 21-29 Platinum Division had the fastest raw time (without any handicap) during the Race of Champions on Sunday. No surprise when we found out that he used to race for the Italian National alpine ski racing team.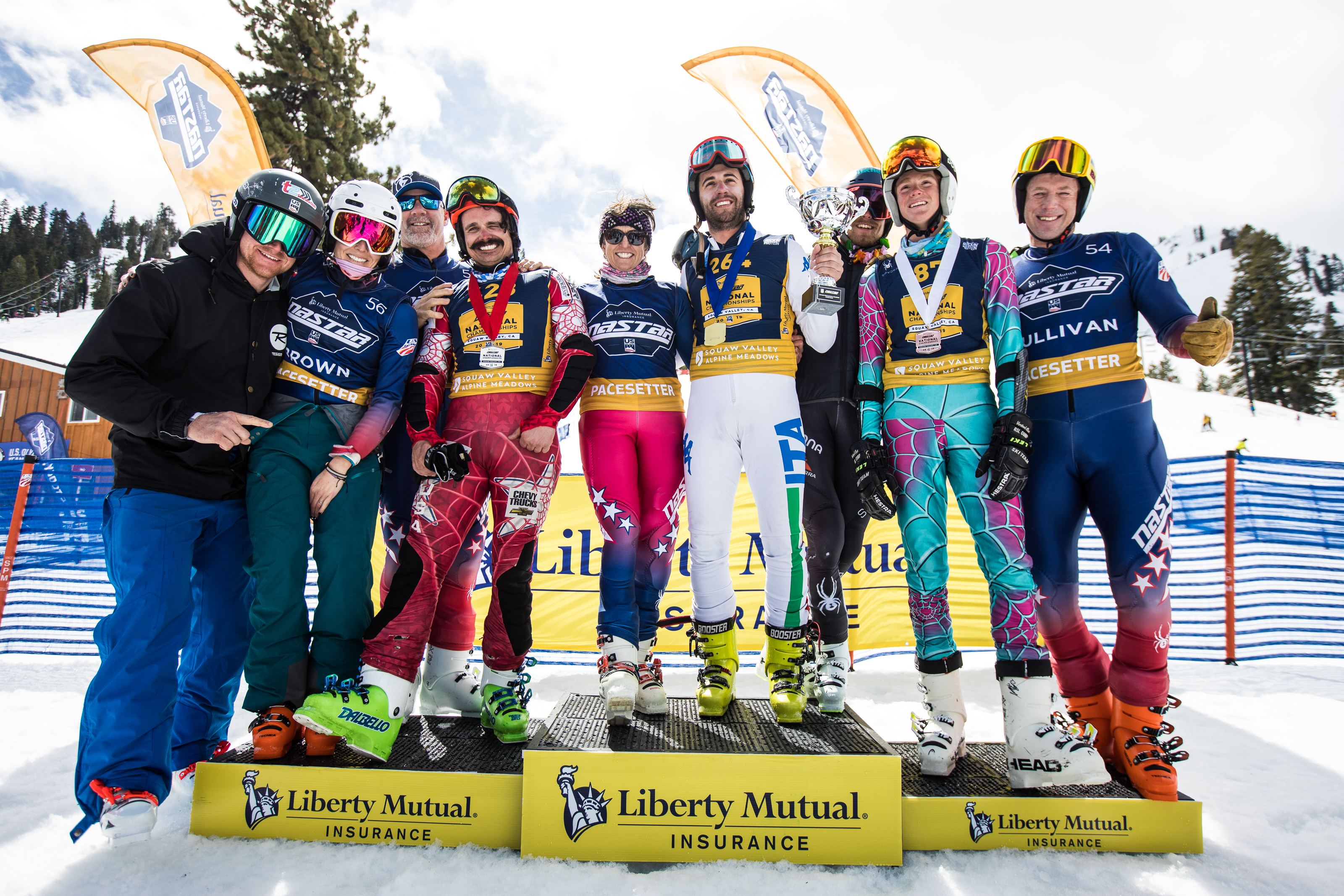 NASTAR National Pacesetter Ryan Cochran-Siegle held the zero handicap all season long and flew into Squaw Valley ready to take on fellow U.S. Ski Team member, Tommy Ford and that he did. Local Tahoe residents and all around ski racing legends Tamara Mckinney, Marco Sullivan and Daron Rahlves were also each going head to head all week long as they set the pace for all the racers at Nationals. Women's U.S. Ski Team speed star and this year's female NASTAR National Pacesetter, Laurenne Ross, was at Squaw all week and sadly not able to race due to recovering from knee surgery this season. Nate Holland set the pace for the snowboarders at Squaw as he did last spring and gave the adaptive and snowboard divisions a run for their money!
"The first thing I noticed about NASTAR is how passionate all these racers are. We saw that in during the award ceremony," said Cochran-Siegle. "There was cheering from the very beginning and two to three hours later everyone was out there cheering just as hard. There's a huge love for the sport and that's awesome for us [U.S. Ski Team athletes] to see."
So back to the beauty of NASTAR, now what exactly does that mean? It's competition, it's fun, it's family and the celebration of ski racing. Picture this, Nationals is the season ender that everyone craves. It is the cherry on top of a great year where families, friends, U.S. Ski Team athletes and all the likes travel near and far to get together and go head to head in friendly competition and true love of the sport. Until next year!