The NASTAR Kitt Family Legacy
12.02.2019 |Hadley Starer

Ski racing has many different sectors for people to participate all over the country. NASTAR is an amazing outlet for all ages to dip their toe into the ski racing world. NASTAR is based on a zero handicap scoring system. For the upcoming NASTAR season, there are two U.S Ski Team members that are NASTAR Ambassadors and National Pacesetters. Ryan Cochran-Siegle owns the zero handicap that all NASTAR participants race against and Laurene Ross earned a 4.11 handicap racing against Ryan.
Within NASTAR, one family that comes to mind with the coinciding beliefs of community with a competitive nature is the Kitt Family. A name that many NASTAR racers know very well. The Kitt's not only support NASTAR, but they also show up annually to NASTAR Nationals ready to rip with smiles on their faces. AJ Kitt is immersed in the fabric of the NASTAR program. AJ is a former U.S. Ski Team member. Kitt specialized in downhill and speed events and in 1992 he ranked third overall in the World Cup downhill standings. In 1991 he won the downhill event in Val d'Isère, France.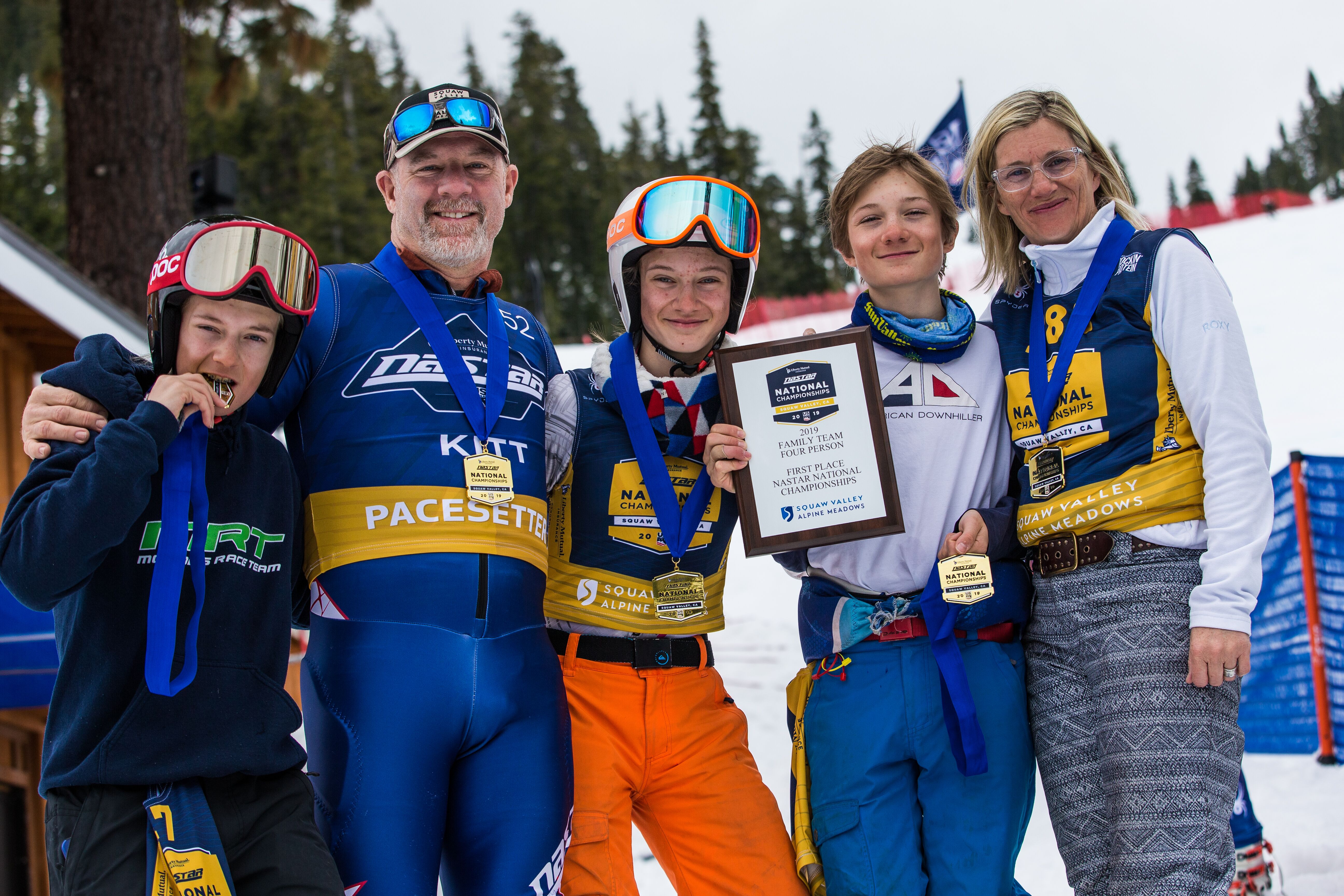 Ski racing has shaped AJ's life but has also taught his triplet children valuable life lessons. 
The Kitts now live in Hood River Oregon. AJ and Amy had the triplets sliding around on the snow by age two. They found it very important at a young age to show their kids the work, dedication and drive that it takes to become a ski racer. As the triplets got older, the Kitt Family began to travel all across the west coast for races. 
Ski racing had already shaped AJ's life, but as the triplets got more involved in racing it became a family lifestyle. 
"Ski racing has built community, friendship and life lessons in our family," explained Amy Kitt, mother to Ava, Ayden and Axel Kitt. "Ski racing stands as an outlet to express their excitement and joy for one another. 
Amy goes to all of her kid's races and finds so much joy in watching her kids express themselves through racing.
"I love it. my favorite thing to do is to go watch my kids," Amy explained. "As cold as I get, as wet as I get, I still enjoy it thoroughly." 
With three young competitive kids at home, the Kitt family motivates each other to push themselves to their limits.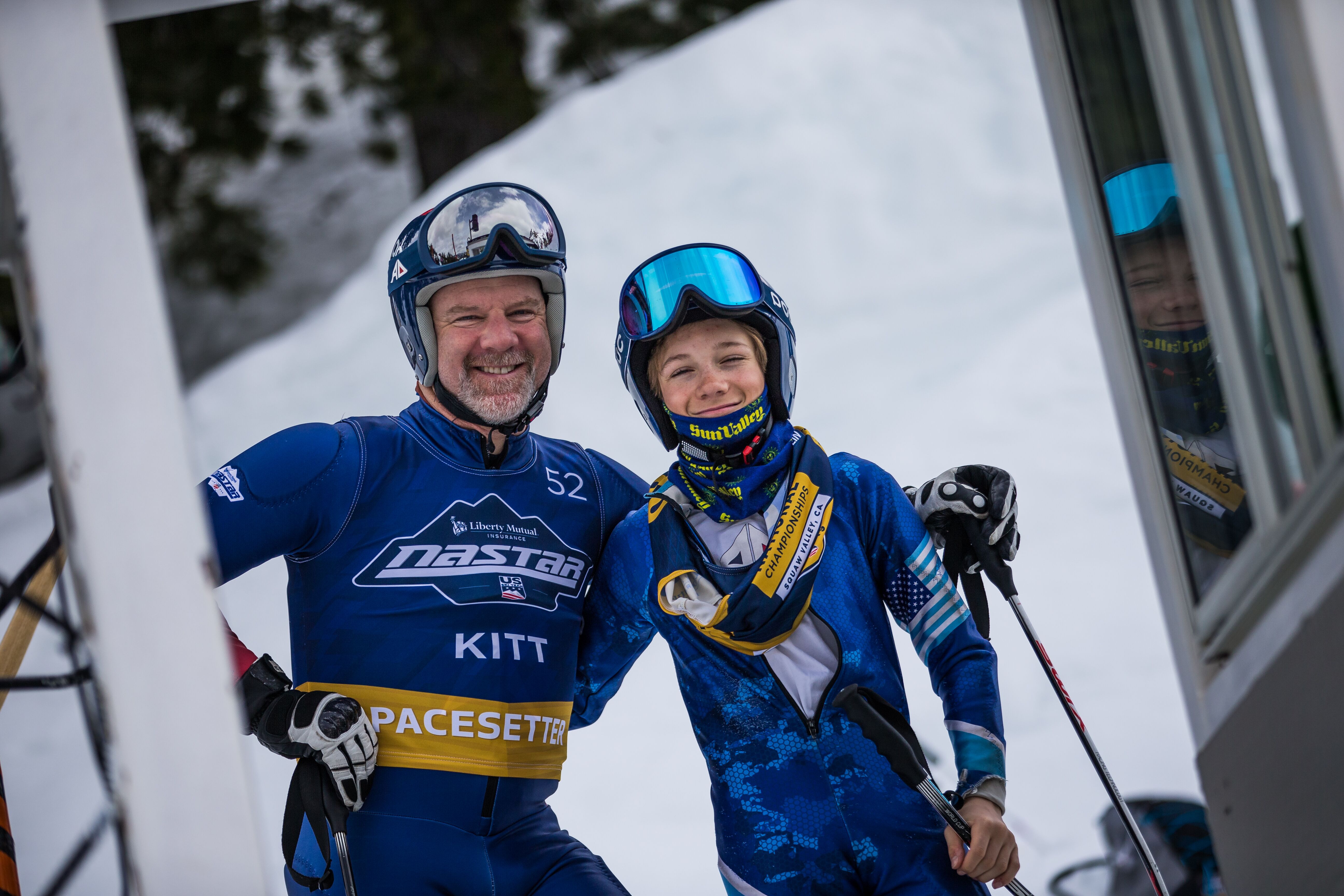 "Learning how to be a supportive parent instead of the aggravated parent can be tough," AJ said about his transition from an esteemed athlete to the parent of competitive children. "There is a big difference between being a parent and being an athlete. I was kind of approaching it the way I was approaching the sport which was the 'go go go go go' way. You realize pretty quickly that you have to be a parent, you have to support, you have to not worry so much about the performance and more about the integrity of the sport and how much fun you are having. Now I am starting to understand why this is the best approach." The highs and lows of ski racing build a character that can handle success as well as failures. Ski racing builds strong individuals both mentally and physically. Amy Kitt truly believes that having her children involved in ski racing has taught them these valuable life lessons. 
Amy Kitt describes these life lessons as, "Having respect and learning to respect one another. They also learned valuable life lessons such as carrying your skis to the ski hill, and if they don't, there wasn't skiing to be had that day. These responsibilities are the values that young athletes learn from growing up ski racing. By introducing their children to ski racing AJ and Amy have taught them respect as well as responsibility. 
"Life is not fair and life is not always easy," AJ said. "If you stick with it the rewards are great. It's just not easy. Life is not full of cherries so you need to make the best out of what you can, ski racers are generally really thorough." They believe that it has helped shape their children to be the intelligence seeking, and kind individuals they are today.
Bill Madsen, Director of NASTAR, also agrees that ski racing teaches kids fundamental principles. "It's sportsmanship. When you bring all these kids together it's competitive, but it's really about having a good time," Bill said. "These lessons carry over from ski racing to their school work, other sports, and friendships."
Today all three U16's are still very competitively involved in the sport. Axel will be attending Mt. Hood Ski academy, participating in the five-month winter-term program. Ava is apart of the weekend program at the Mount Hood academy. Ayden will be doing the Mount HoodMeadows racing program on the weekends.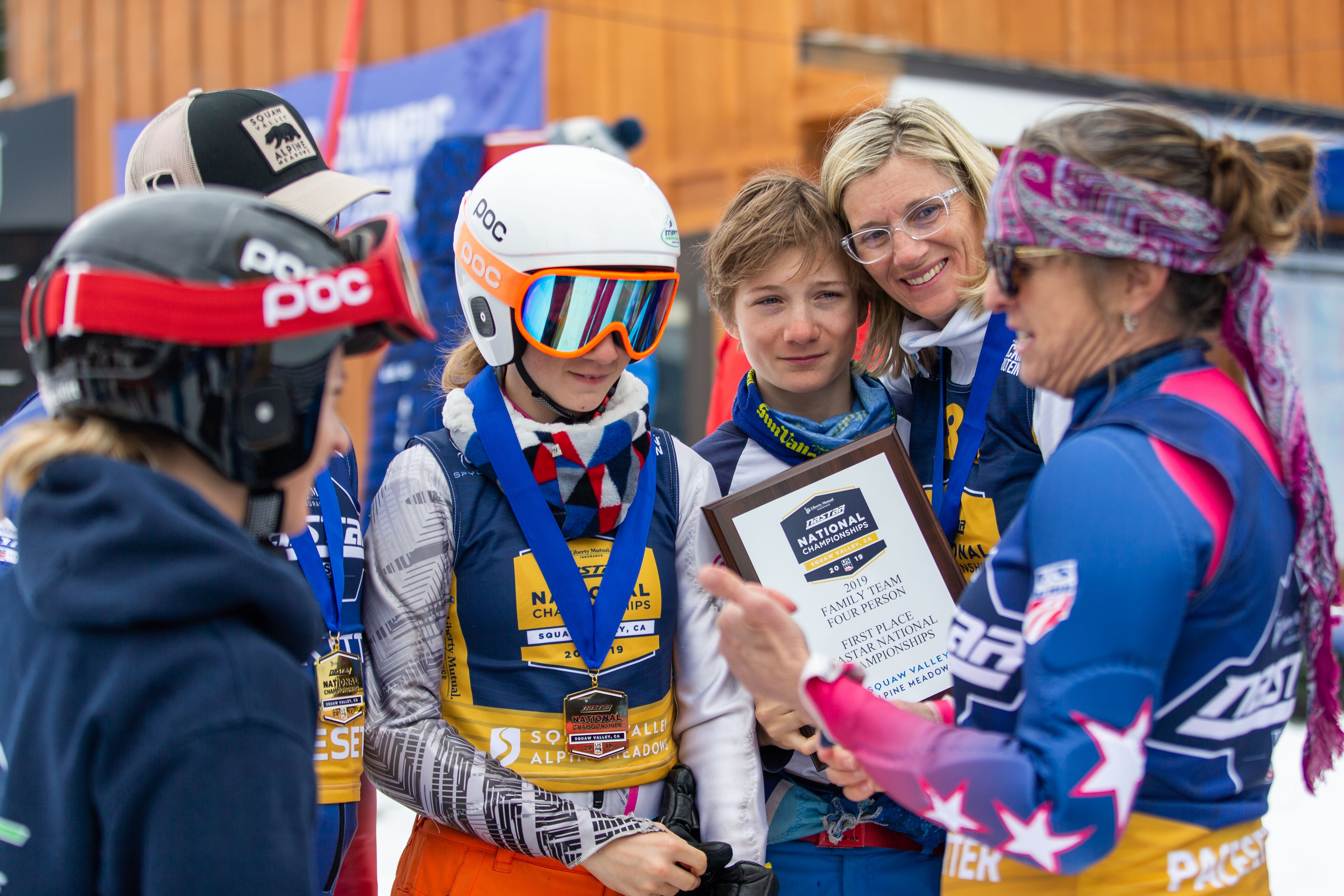 The triplets are still involved in ski racing; both AJ and Amy lead full-time jobs in Hood River, however, it never stops the family from attending NASTAR Nationals every year. 
The community is what drives the Kitt family to keep coming back to Nationals every year.
"NASTAR Nationals are basically many groups of friends that are from all over the country that my kids meet every year," explained Amy. "They love racing, the whole four-day event, there are so many fun things about it," Amy explained how AJ, the kids, and herself have made friends with other families that have gone to nationals every year. The kids look forward to skiing and exploring the mountain with their friends. The reoccurring community is what makes this an exciting event. 
Bill Madsen spoke about the involvement the Kitt family has had with the NASTAR community. "When AJ started to bring the kids to nationals it really did speak to the spirit of the whole event, because NASTAR is all about families." Madsen traveled with AJ for several years when AJ was NASTAR's Traveling Pacesetter hosting Regional Pacesetting Trials across the country. Bill has seen the positive impact firsthand that AJ and his family have had on the NASTAR community. The pure familial love that is rooted so deep in the NASTAR cultures ensures families like the Kitt's keep coming back every year. 
The Kitt's are a perfect example of how ski racing can shape the life of a family. As one of the most dedicated and esteemed ski racing families in America, they use that drive to inspire their own personal relations with one another as well as their love for ski racing.