Keeping Up With The Colletas
12.19.2018 | Claire Thomas

The scale of California's infamous big city traffic pales in comparison to the two hundred mile commute from Marin County to Tahoe. And yet, not only do some routinely partake in it, they anxiously seek it out.
Every Friday, Shara and Sean Colleta set out on their post-work pilgrimage from Tiburon, California to their home in Olympic Valley with their three sons: Schulyer (9), Sutton (8), and Sloan (6). They make the trek almost religiously, despite the drive and insistent pleading by teachers in the Bay Area for parents not to take their kids out of school to ski. The Colletas can't resist. Shara insists skiing at Squaw Valley/Alpine Meadows has become "part of [their] lifestyle" over the last three years, making for an easy decision to pick up the ski boots and drop the pencil cases when the flakes start falling.
Notorious as a tight knit community with a contagious enthusiasm for skiing, Squaw Valley and Alpine Meadows have fostered an ardent desire among their clienteles to ski with and live with passion. The Colletas embody this spirit in a variety of ways, notably in their ritual "Baby's Got Back" family sing-a-long car sessions, or exceptional attendance at Dawn Patrol sessions. You can count on seeing them sitting fireside (cookies in hand) at Wildflour, known to locals simply as "the cookie shop", on a powder day, or racing one another down the Fingers. Their pure love for skiing might just be what makes their dynamic so special.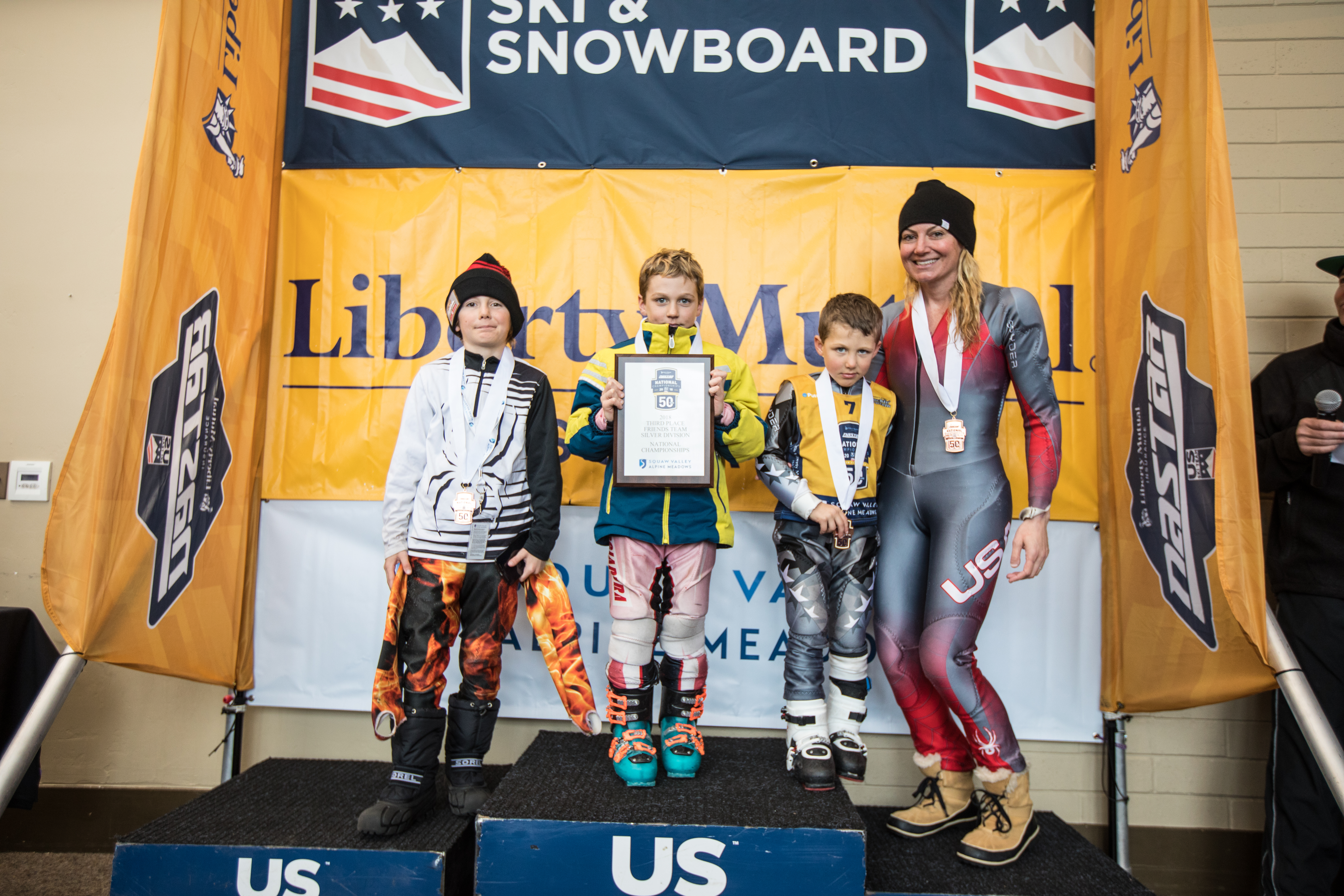 Schuyler, Sutton and Sloan push each other on a daily basis, naturally making them ambitious and fearless. The boys have been a part of the "Shooting Stars" and "Mighty Might" programs at Squaw, with the intention of participating in Far West racing in the coming years. However, their interest in skiing goes beyond ski racing, showcased by their eclectic group of role models ranging from Jonny Moseley and Shane McConkey to Marco Sullivan. As individuals, they excel in different areas, compromising with a consensus that  "Schuyler is fastest on powder, Sutton moguls, and Sloan on normal snow". The boys have been found skiing off roofs (Sutton), beating NASTAR pacesetters (Sloan), or pushing their line on KT-22 aspiring to be the next Warren Miller movie star (Schuyler). Whether it is air time or speed to the bottom, these three boys are competitive. As such, NASTAR is the perfect outlet to know (down to the hundreth), which Colleta brother is the "winner" on any given day.
Shara and her three sons learned to ski a mere three years ago during the 2016-17 season, and the boys started regularly racing last season. (Sean is a snowboarder, but we'll forgive him). Ever since the boys joined the ski world and found early success, the family has been all in. "I had never felt a better sense of what I wanted for my family" says Shara.
Soon after the boys started racing, Shara was approached about joining the board for the Squaw Valley Alpine Meadows Foundation (SAF), a non-profit organization which awards scholarships to young athletes and organizes opportunities for coaches to continue their education. A primary fundraiser for the organization is "Peak 2 Peak", which is a family fun race held on the NASTAR course at Squaw. The fundraiser awards the Fastest Family of the day. As a member of the board, Shara was motivated to sign her family up for the event. They have been hooked on NASTAR ever since.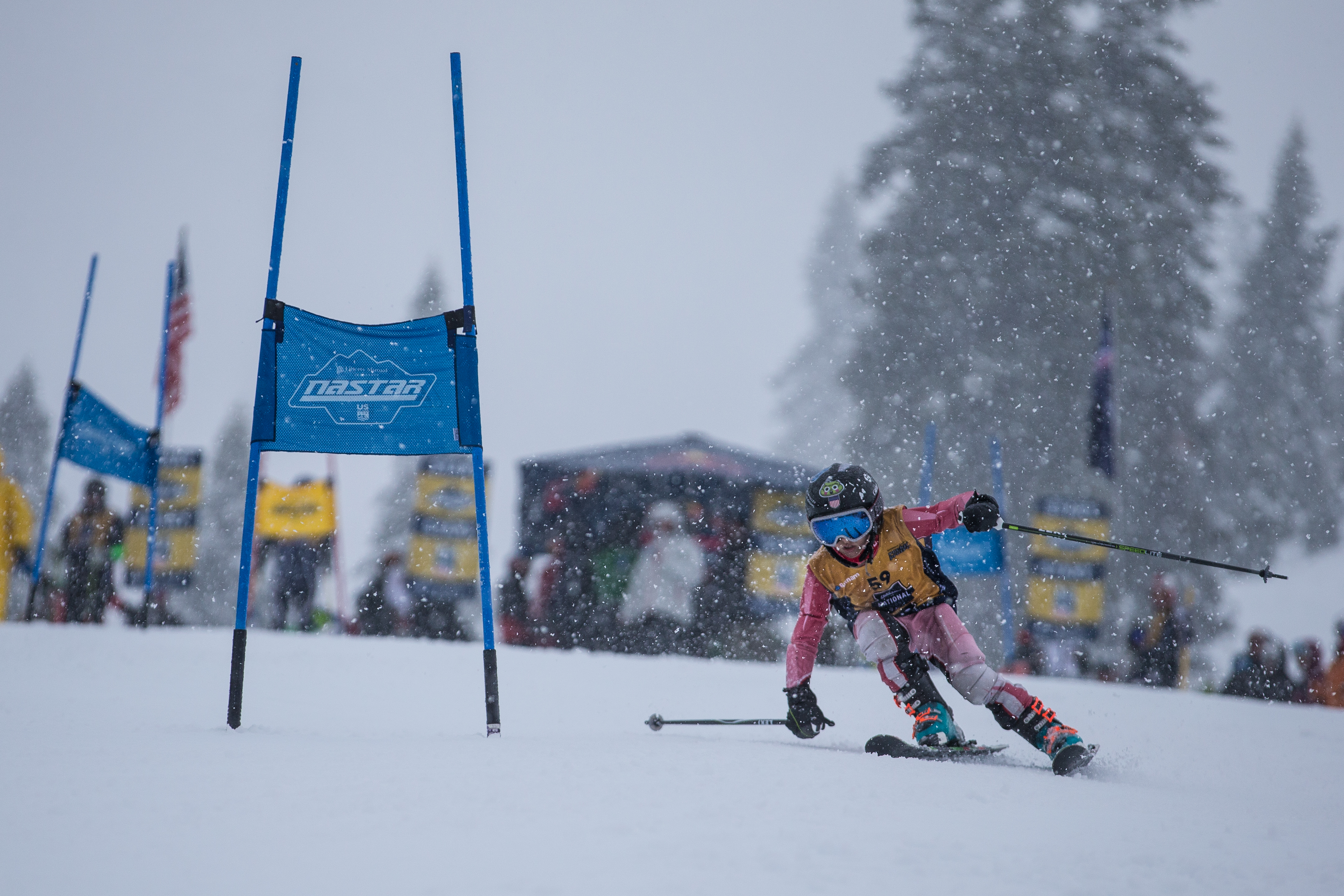 "Once we started to spend time on the [NASTAR] course, we would go as a family after the kids finished practice. There were days when the four of us would just shuffle for an hour racing one another and take notes on the course to figure out how to get a personal record" Shara recalls. The fun of head-to-head competition paired with appeals of a safe, controlled setting have awarded the Colletas their fix for ample family fun (with a little competition of course).
By providing a realm for parents and kids to compete side-by-side, Shara credits NASTAR with "keeping families together" which has evidently "created enthusiasm in its participants and the community" at large. NASTAR is "reinvigorating the sport by making it accessible to everyone, and bringing something intimidating into a recreational space" she says.
When asked about best family memories, Shara looks to NASTAR Nationals at Squaw Valley. "I'll look back on Nationals and remember how tough my guys were that weekend" Shara recalls. On the first day of competition, she broke her leg but continued to push through the remaining races. Thinking back to NASTAR Nationals, the youngest Colleta boy, Sloan, remembers the loud cheering from bystanders. "Sometimes I get butterflies because of all the chanting. It makes me feel nervous, but also makes me feel really good and want to go faster" he says. The Colletas placed fifth in the Four Person Team category, a highly respectable result given it was their first time at the event and Shara's injury.
"It was a memorable experience to be skiing with such a wide range of athletes: kids, parents, grandparents and even Olympians. Skiing is a rare sport that you can continue for your whole life, and it's so special to be able to do it for so long while spending time with the people you care most about" Shara says.
For the upcoming 2018-19 ski season, the Colletas intend to return to NASTAR Nationals and bring home the gold. But until the "Tiny but Mighty" family cheer booms through Squaw Valley on race day, locals can keep their eyes peeled for the three stickered helmets of the three brothers pushing their limits (and one another) on and off the race course.