How to Prep for Race Day with Laurenne Ross
12.05.2018 | Ski Racing Staff

Laurenne Ross has ten years of experience on the U.S. Ski Team, she's appeared in two Olympics, and she consistently finishes in the top 15 on the World Cup circuit. This year, we're lucky enough to have her setting pace as our newest NASTAR National Pacesetter. One might assume that with all that experience and success, she feels comfortable before the start of a race, yet even she still finds herself tensing up.
While physical preparation the night before and the morning of a big race is important, keeping your nerves in check is equally as, if not more, influential when it comes to skiing your best race. If Ross has learned anything on the circuit, it's how to dial herself in to get ready to kick out of the start gate in the best headspace possible. 
"All in all what I've learned over the years is how to maintain my focus and how to stay where I am, rather than think about results because the fear of failure is so difficult to get past" she says. "'You know, 'what if I fail, or what if I win?' Those are the thoughts that can really destroy a day of racing."
Ross recently shared with us the unique things she does in order to remain present before, during, and after big race days.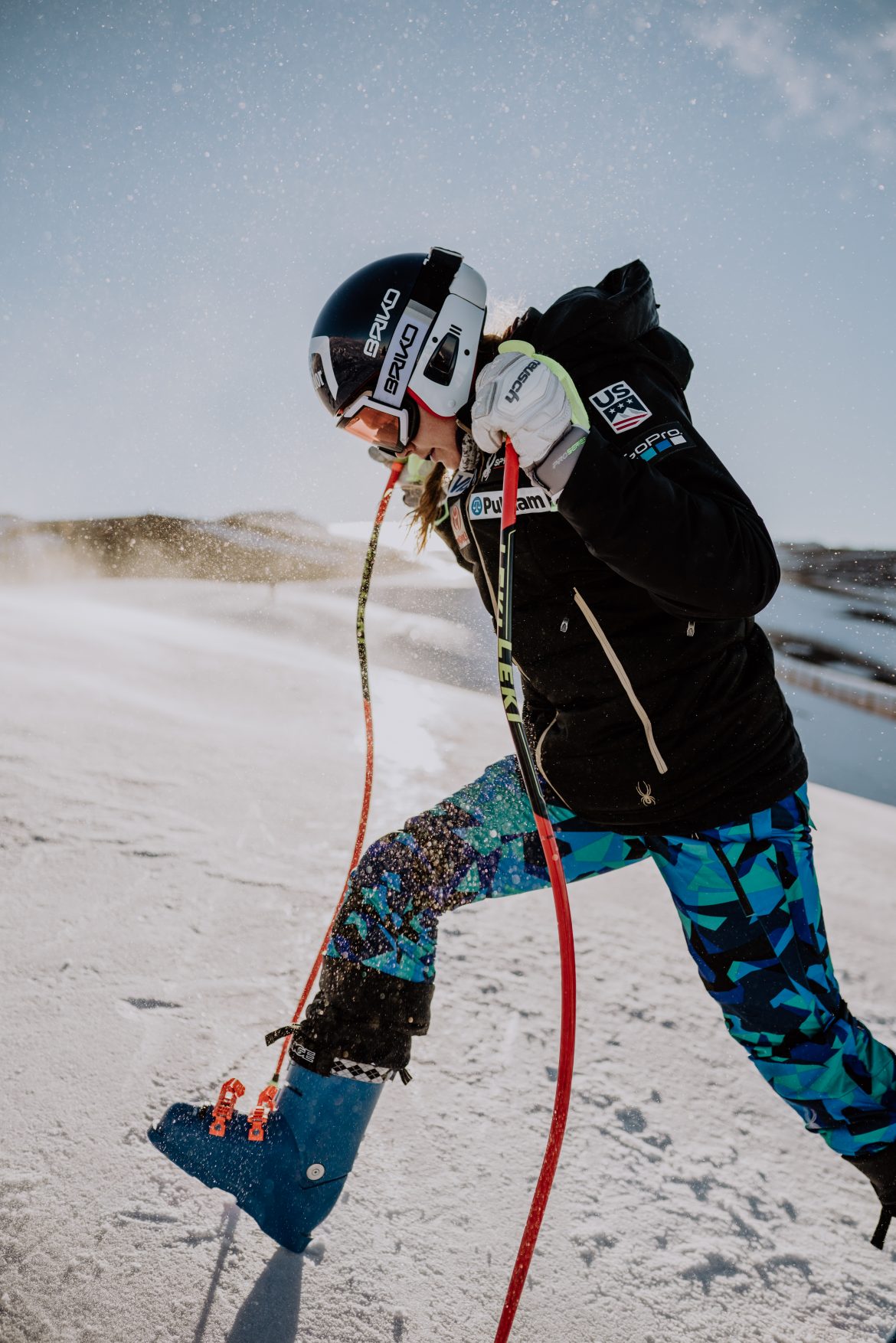 The day before…
Typically, Ross will spend the afternoon before a race doing some sort of recovery and physical preparation. This involves a bit of spinning on the bike, some core workouts, and a short session of strength and power to get her muscles activated and engaged. After that, she'll watch some video with her team, especially if it's a downhill race. They run through the course, analyze training runs, and use this knowledge to figure out exactly where and when they need to execute on the track the next day. When it comes to food, Ross does whatever she can to make sure her meals are healthy and green, with a bit of protein.
"I typically bring some green powder on the road, so I have it if I don't feel like I'm getting enough vegetables in my diet" she says, especially since her and the team depend on their hotels for food, which sometimes may not meet expectations.
The night of…
When it comes to falling asleep the night before a race, Ross struggles since she isn't a "huge sleeper." While she aims to get a full eight hours, she knows that won't always happen because it's at night when her nerves hit. She tries to make the best of that nervous energy by channeling it into creative, distracting alternatives.
"I like to keep my mind off the stress and do something else. I'll play my guitar, I'll try and hang out with my teammates, I'll read, or draw, or write in my journal. Or I'll go out and walk around and take photos and just kind of try and maintain a calm state of mind."
On the guitar, she loves to delve into more complicated pieces of music, or work on chord combinations she's written herself so that it's easy to get consumed in song. Her reading recommendations include self-help favorites such "The Art of Fear" by Kristen Ulmer or "The Mindful Athlete" by George Mumford, and her new found love, a graphic novel series called "Saga."
The morning of…
Ross gets up early to meditate for at least a half hour before diving into warm ups. She'll spend another half hour on the bike in addition to an extra warm-up routine to activate her core and key leg muscles. After breakfast, when the team heads up to the hill, there isn't much prep work left. It's time to focus on skiing and inspection.
"I go over the course in my head after inspection multiple times. I review it at the bottom section, right when I get to the finish I'll go over it, I review it in the lodge, on my way up to the run…even when I'm at the start I'll continue to do so until I feel really comfortable and feel like I don't have to think about where to go anymore."
At the start…
In addition to visualization, Ross takes time to hop into another warm-up routine, the same one she performs every race. Core warm-up, leg swings, anything to get her heart rate up. After imagining her run and getting her body moving, the most important thing Ross does is remember to breathe. It's also the key piece of advice she would offer to a young racer who is still trying to find their rhythm on race day.
"Trying to maintain presence and trying to be really aware of your breath and how your body's feeling and just being aware is really important, and that helps a lot with the stress and not being overwhelmed. Remembering to take a deep breath is something that's really simple but it's easy to forget, and that's something I still work on constantly," she says.
After her run…
In an attempt to not be focused on her time, Ross goes back over her run in her head after going through the finish, remembering what felt good even if her time wasn't what she wanted.
"I try and remember moments of brightness or moments where I may have made a mistake and regained my composure and not base my day off of what my time was" she explains. "That's become really important because if you just base your day off of how good your skiing all the time, then if you're not skiing great it can really put you in a rut."
After coming back from an injury, Ross admits she is still trying to get past the initial fear that coincides with making a comeback. What she relies on to keep her grounded outside of the support of family, friends, and coaches is the fundamentals – the skills she knows will help her out of a pinch when the skiing gets scary.
"I'm really working on just getting more comfortable in my skiing and just learning how to push myself again" she notes. "I just have to stay really present and stay with my breathing and also remember why I'm doing it and that's because it's so much fun and there is nothing else that's like it."
Take it from Ross, race day tends be stressful. But no matter what kind of racer you are, with a solid pre-race routine and practiced mental focus, that stress can be subdued until you return to the present and remember why you came to race in the first place – because it's fun.
For more articles like this one, be sure to become a Skiracing.com Premium Subscriber! Head over to Skiracing.com to subscribe now.