How To Manage Your Profile
10.30.2017 | Nastar Editor

It's NASTAR season again and time to check back into your NASTAR user profile. Your user profile is where you can gain access to your personal NASTAR results and records, add yourself to a team, register for regional and national races online and merge duplicate race records.
If you have raced NASTAR since 1997 you probably have a NASTAR record. Simply search for your last name at nastar.com by clicking on the magnified glass

 in the upper right corner of your screen, then select your name and create a password. If you don't find yourself in the NASTAR database online, start by registering for NASTAR here.
For everyone who already has a login, let's walk through the basic steps of how to get the most out of your NASTAR profile. Once you're logged in, you can access your race record anytime by clicking on silhouette 

 in the upper left corner of your screen. You can also go directly to any NASTAR record by entering a registration number in the search field.
Every NASTAR participant has a registration number and it's yours to keep for the rest of your NASTAR eternity, thus, there's no need to re-register for NASTAR year in and year out. The registration number is like a permanent bib number and it always begins with the first three letters of your last name and then a number.
When you login to your NASTAR record there are a number of options available to you, including updating or hiding your personal information, merging duplicate records or updating your profile with a photo. The Race Tools will appear within your record when your are logged in.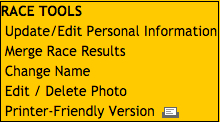 Most importantly, know your login so that when it's time to register for regional championships and national championships, it's easy to do so. When you are logged in, click on the link for the event registration within your race record.
If you're still having trouble logging in, try visiting our "how to login" page.