High School Ski Racing: an Opportunity Missed
12.03.2019 |Patrick Mooney

In the Tahoe Basin area, there are no fewer than thirteen ski areas, nine junior alpine race teams, two ski academies, and six public high schools. This generates a large number of junior racers whose skills range from pre-World Cup athlete to pre-carving athlete and everything in between. And while droves of junior racers and their families from all parts of the state wake up every Saturday and Sunday in the winter pre-dawn cold to beat the traffic to Squaw Valley, or Sugar Bowl, or Northstar in order to join thousands of others in mass training sessions, only a fraction of those junior ski athletes take advantage of their underutilized and inexpensive high school ski racing program.
Ski & Snowboard's Far West region encompasses two statewide Interscholastic Athletic Associations. In California, high school ski and snowboard competitions are governed and sanctioned by the California Nevada Interscholastic Ski and Snowboard Federation (CNISSF), in Nevada it is the Nevada Interscholastic Activities Association (NIAA). Each governing body directs the high school ski competitions within their own league. The NIAA and CNISSF have developed ski racing bylaws, coaching requirements and training, race standardization as well as state championships qualification policies by which all schools within their league must abide. NIAA and CNISSF bylaws are intentionally designed to emulate Ski & Snowboard and FIS bylaws. 
Unfortunately, there is an underlying belief among elite US Ski & Snowboard racers and some of their coaches that high school ski racing is not to be taken seriously, that it is a joke, that it is to be avoided, and because of this attitude, many racers do not take advantage of a golden opportunity to race for their high school, and those who do, do not take it very seriously, thus perpetuating the myth that high school ski racing "doesn't matter." I have, over the years, been told by potential high school skiers that they couldn't race high school because their Far West coach would not allow it, suggesting that it would be "bad for your skiing." I have also seen the lack of effort by those who do choose to race high school races – year after year; elite racers dressed in flannel and jeans, racing on untuned and unwaxed trainers, and inspecting the course from the chair. 
While many ski athletes also play other sports in school, some do not. To be on a high school race team may be the only opportunity for a student to connect to their school outside of the classroom. In our case, at Truckee High School, several racers would not know that sense of school pride or consider themselves Wolverines if they weren't on the high school ski team. They would not be recognized at pep rallies, they would not have their names read over the PA system for winning a podium at a race, they would not attend an awards gathering at the end of the year where they might earn a varsity letter or a Most Improved plaque or even an MVP plaque; they would not feel like they belong. All of the hard work they put into training for their club ski racing team would go unrecognized by their non-racing school peers and teachers. Racing a high school race gives the elite racers the opportunity to showcase their high level of skills to their high school peers who would otherwise not even be aware of what they are capable.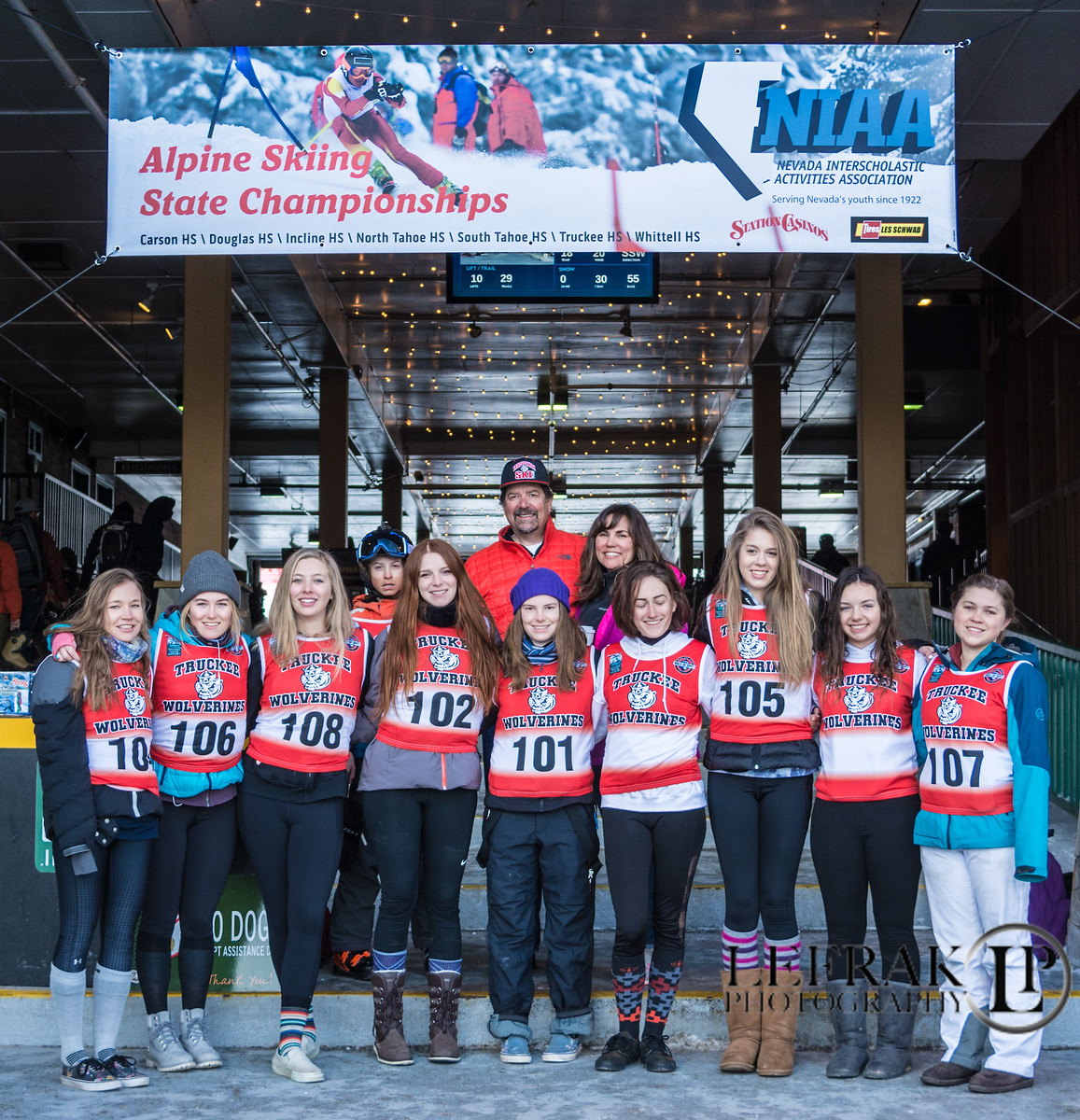 Most racers at a high school race are not your Ski & Snowboard / FIS racers. They are athletes with less skill, less opportunity, and fewer financial resources. Although most may be advanced skiers, few have the competitive skills of an elite racer. This though does not weaken the level of competition. High school races may not have as many top performers to create a large field of competition, but the top skiers from the local region, who attend public high schools, should be there to compete, and some of them are the leaders in their regional division making the competition just as challenging as any Ski & Snowboard sanctioned race. Ski & Snowboard or NIAA, you will still be facing some of the fastest skiers in your region. And in case you were wondering, US Ski Team members past and present: Julia Mancuso, Travis Ganong, Stacey Cook, Tim Jitloff, and Marco Sullivan, to name a few, were all NIAA high school ski racers at one time or another. And let's not forget Sean Higgins, Incline High School alumnus and 2007 NIAA State Champion in both GS and Slalom – and look where that got him! So, if you think that you may not be challenged enough in a high school race by the competition, be forewarned now, you may be going up against a future Olympian or future senior editor of a ski publication.
Although the competition can be as stiff as any Ski & Snowboard race, it must be conceded that the high school course will not be exactly the same. Due to the fact that the median racer at a high school race will have limited race skills, the courses tend to be a little shorter, a little tighter, and a little less technical. You will see fewer delay gates in GS, and fewer combinations such as hairpins and flushes in the slalom, but the courses are generally set on the same homologated venues or runs as other races. Notwithstanding, the course will not be the same test of skills for the elite racer as a FIS or USSA course would be. But it can still be a test of their skills; they can focus on specific basic skills like a fast start, an aggressive line, and gliding. They won't have to worry too much about just "hanging in there". They can still test themselves against their peers by pushing themselves to the limit on even this abridged course. And you know, they might even have fun doing it.
But racers should not see the high school race as something that is a lark, as just another training run, as something that doesn't matter. There are rewards, accolades, and recognition at stake. They should care that there is the potential for not only an individual state title in GS and slalom, but there is also a team state title at stake and the rest of the team, who may have less experience, is counting on the top skiers to help them get that state title. This year, the North Tahoe Lakers both boys' and girls' teams, swept the NIAA state championships yet again. Every one of their top club racers showed up in full speedsuit, tuned race skis, and an attitude to win, while top racers from other teams were seen wearing puffy jackets, cover-up ski pants, and an unwillingness to apply an overlay before they stepped into the gate. They thought it was embarrassing to care enough about high school ski racing to properly prepare. What did they give up? They gave up individual state titles, they gave up team state titles, they gave up All-state titles and recognition, they gave up being recognized at school district board meetings as state champs, they gave up being recognized by their school at year-end athletic awards ceremonies, they gave up front page exposure in the local newspaper, they gave up putting NIAA State Champion on their college application. And while they may still shrug their shoulders and say, "It's just high school racing, it doesn't matter," it certainly mattered to the other 20 skiers on the team who do not race at the club level and would really like to have had a chance to bring home a state championship trophy. To be sure, high school ski racing should be fun. But once an athlete steps into the starting gate, they should be prepared to put down a 110 percent effort for themselves and for their school.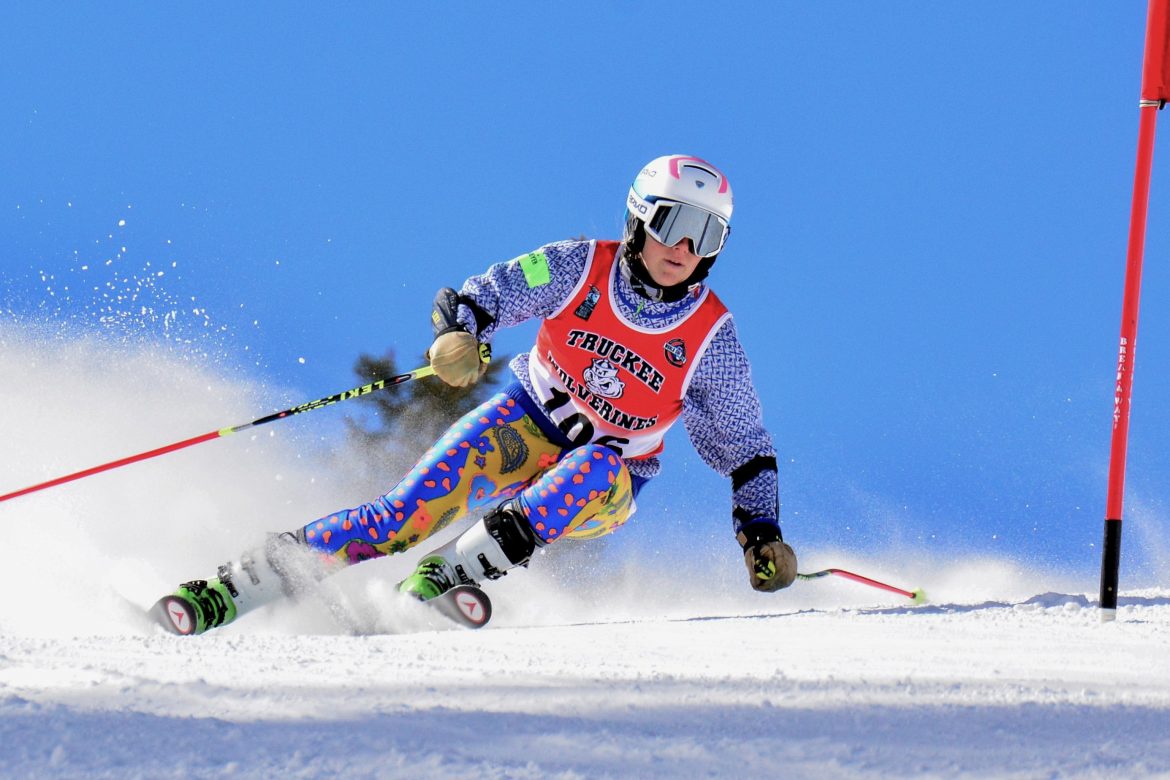 At the end of the NIAA race season this year, I picked up a local newspaper and on the front page was a full page picture and story about our athletic high school ski rivals the North Tahoe Lakers who had won the NIAA State Championships the day before. In that same issue, back on page 14, was a short piece on U.S. Ski Team's Travis Ganong finishing 5th at the Kvitfjell Super-G. NIAA front page; World Cup page 14. Not to belabor the point, but unless you are reading Ski Racing or another ski specific publication, you are more likely to find high school racing results, stories, and pictures splashed across local publications than you are World Cup, or even regional Ski & Snowboard results. Every local newspaper in the Tahoe Basin published stories and photos of every high school ski race every week during the season. If you're on the team, you're probably in the news. Your elite athlete has a much greater chance of public notice and recognition by racing in high school races than USSA races. An athlete who rarely breaks the top 20 in a US Ski & Snowboard race might podium in a high school race and make the front page, but they will have to work for it, because they will still be going up against future US Ski Team members who, at the height of their future World Cup racing careers, will be found on page 14. As much as I would have loved to see the Truckee Wolverines on the front page of the newspaper, I still had to appreciate that my good friend Rob Sproehnle, who coaches the Lakers, had raised the bar on the level of competition in our league by recruiting top Far West racers to his high school team and convincing them to give it their all.
Ski racers can't get enough. I can recall as a junior racer on the Squaw Valley Ski Team wanting to go back to the top and take just one more run on the course. Just one more. The 90 second rush of attacking a race course just didn't seem like it was enough. One more time and I was sure I could shave off a few tenths. And if we were training pre-jumps off the knoll in Schimmelpfennig Bowl, God help our coach, Ernst Hager, who had to forbid us from loading the chair one more time when it was time to wrap up the day. And that's how ski racing works. Ski racers can never get enough. But they can get more. More gate time, more coaching, more recognition, more racing, by seeking out the coach for their high school ski team and signing up. Odds are, if they join to be a team member (after all, high school racing is a team sport) and approach the high school league races with the same ferocity as they do their club races, the high school coach and teammates will be delighted to have them on the team. It's an additional opportunity for the elite racer to become a leader among his or her high school peers by being a model of advanced racing skills. It's an opportunity to reach beyond what US Ski & Snowboard racing offers the junior racer and give back to their high school, and, perhaps most importantly, it's an opportunity to have fun.
NASTAR is a proud partner with Ski Racing Media, the leading international media company in alpine skiing, providing industry expertise, storytelling, and education. As an independent community-supported media company, Ski Racing Media guides the community through informative writing, photography, and video. To read more articles like this one, become a Ski Racing Media Premium Member and subscribe today. Click here to learn how to sign up.