Berkeley Family: Three Generations of NASTAR
11.09.2017 | Megan Ganim

"We've been going to Steamboat since 1965 until my daughter was out of college in 1990. There was a big group of us who would travel out there all the way from Missouri," said 75-year-old NASTAR racer Tom Berkeley. "We didn't start racing at Nationals until 2006 and this year is my 20th year of racing. I've won my age group seven times, second place four times and my daughter Rebecca, she won her age group at 2017 Nationals and even finished fourth at the Race of Champions, that's good enough to be third place in the men's race!"

When jokingly asked why he let his daughter Rebecca start beating him after all these years of always finishing before her, Tom responded, "well, I guess I got older and she got better." For Tom, age is a number but it comes with goals that he has for himself and his family in terms of their athletic ability with NASTAR.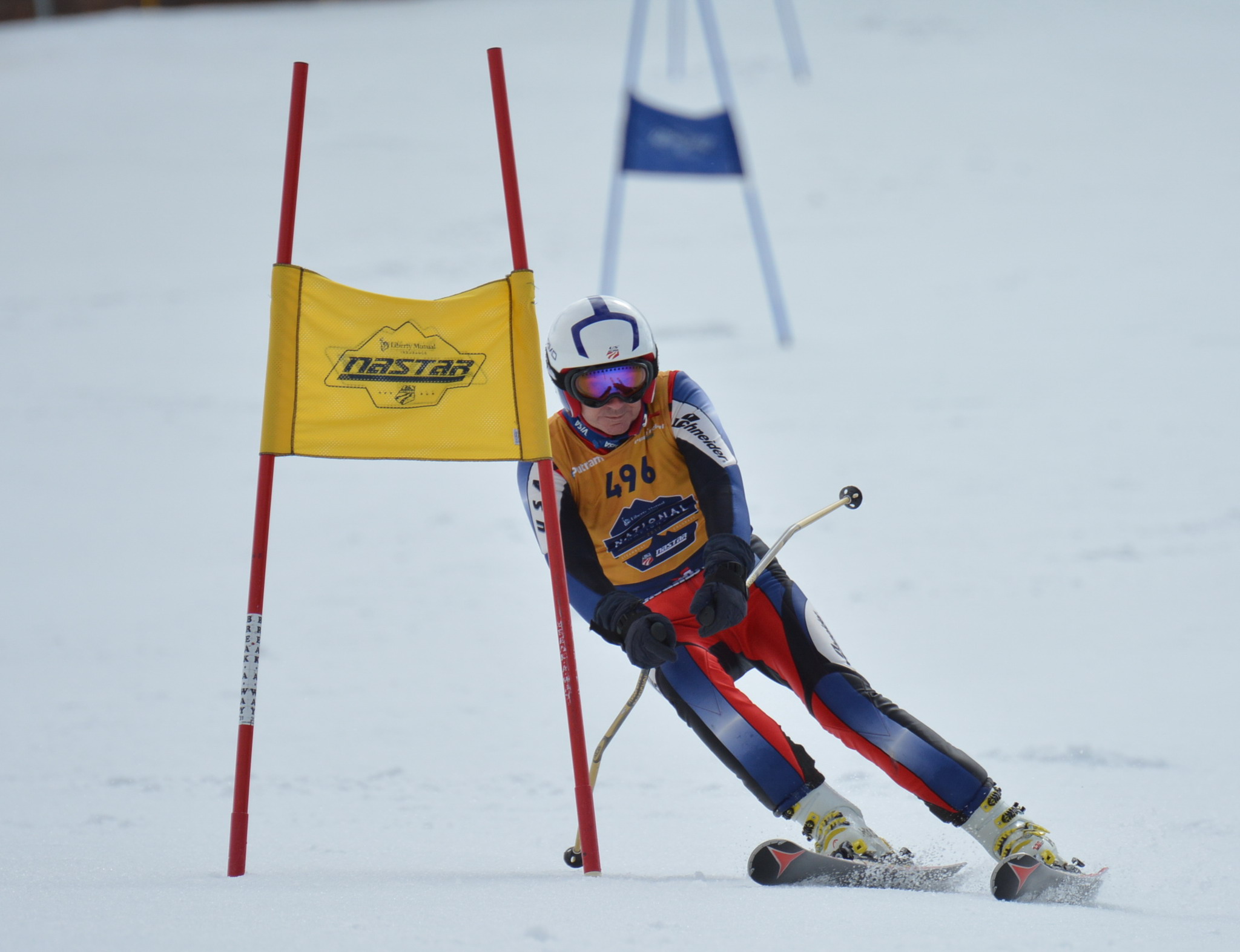 "I want to try to win again at Nationals this year and be able to ski into my '90s because why not!" said Berkeley. You have probably heard of James Dooley before, he's a bit of a NASTAR legend at 98 years old and still pushing himself to strap on his skis and boots and make his way down NASTAR courses. "There's no reason I shouldn't be able to do that," laughed Tom.
But racing into your 90s is no easy task and one that most of us can really only dream of at this point. In fact, racing in your 70s is an accomplishment to be cherished. The Berkeley family has always been into the outdoors and taking family trips to the mountains. The speed of racing is why Tom loves it so much but being in nature and having fresh air in his lungs is what keeps him driving to the ski hill every weekend. "We've always been outdoors people," said Tom. "For our honeymoon, my wife and I went to a one-room cabin on a lake in Minnesota. We did a vacation in Vancouver and stayed in a motel that was built on a barge and watched the the bears eat!"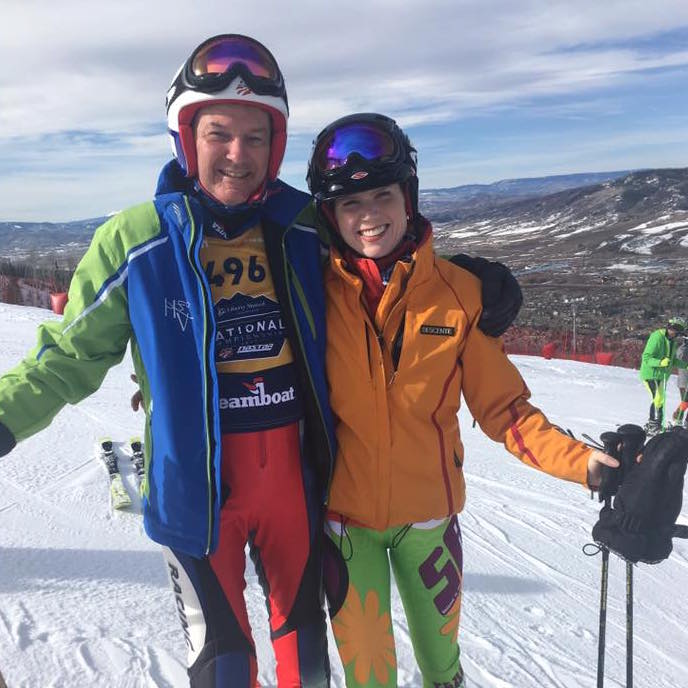 Rebecca, Tom's daughter, grew up going to their annual family ski vacation at NASTAR races instead of heading to the beach where many families in Missouri might prefer to vacation. She now has kids of her own whom she's passed this tradition along to in Ann Arbor, Michigan.
"We are a daring family and I was brought up taking chances and going fast," said Rebecca. "That's how I brought up my kids, to get out of their comfort zone and go do things that scare them a little bit."
Her ten-year-old daughter Sarah joined her mom and grandpa at Nationals last season and they had three generations of racers on the hill.
"Last year was super important to me to have three generations racing and it was not an insignificant investment of time to get us all qualified to be able to get the whole family out there," said Rebecca. "It was so important to my dad and it meant a lot to us all to race with him, he was completely over the top."
Tom coaches U10's (eight and nine-year-olds) on Saturday's at his home hill of Hidden Valley in Missouri and has acquired his level 200 USSS Coaching Certificate. "I love seeing the kids get better. My challenge to them is this: I'm old enough to be your grandpa so by the time you're done with lessons this year, you have to be faster than I am on NASTAR course."
The Hidden Valley Ski Team, utilizes NASTAR courses as a part of their training program with lessons in the morning and then athletes transition to jumping into the courses on Saturday and Sunday afternoons. This might explain why there's often about 40 Hidden Valley, Missouri racers at Nationals each year.
With 310 feet of vertical drop, Hidden Valley Ski Area makes most of their snow but the hill is conveniently only ten miles from the Berkeley family's home outside of St. Louis Missouri. "We consider ourselves real lucky if we can get on snow before Christmas and if it's cold enough to ski through the end of February," explained Tom. But it's this type of drive and tenacity to keep pursuing the sport that makes stories like the Berkeley family's that much more fueled with passion.
For ten-year-old Sarah, to have gone to Nationals last year is almost like a stamp of confidence that allows her to stand out as an individual amongst her peers in the fourth grade.
"When she went to NASTAR National last year the kids in her class thought she was going to the Olympics it was that cool," explained Rebecca. "She came back with this sweatshirt and the gear and she carries the NASTAR backpack with all the pins on it around school every day. I love it because it provides a strong sense of identity for a young girl in a time when it's really easy to be interested in things that are maybe less purposeful."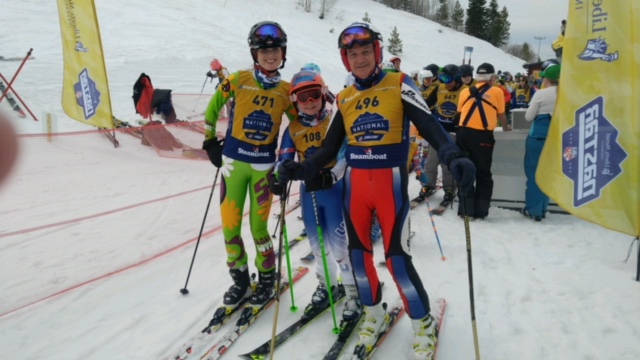 All three generations of the Berkeley family plan to be at the Liberty Mutual Insurance NASTAR Nationals in Squaw Valley again this year. It's a time when Tom gets to reconnect with friends from all over the nation that he's made over the last eleven years of racing at Nationals and most importantly, be with his family. Now that's the beauty of NASTAR isn't it?