After a Life-Threatening Injury, Leyton Sheppard's Future is Looking Bright
11.12.2019 |Ski Racing Staff

By his own account, Leyton Sheppard was having a fairytale season as March 17, 2019 dawned a sunny spring day in Park City. Leyton was home on a short break and had a day off from training after just completing the Rocky/Central Championships. The 15-year-old was looking forward to getting back to training for the U16 National Championships later in the month.
His plan was to race some NASTAR and improve his national ranking to number one in his age group. His twin brother, Sebastian, had raced a lot of NASTAR and jumped to number one while Leyton had been away most of the winter training in Minnesota and wanted to regain his previous season's number one ranking. He put his race suit on that morning with the goal of one good run to get that number one ranking. A little before noon he called his dad, who was with Sebastian at a regional race, and told him that he was going to skip NASTAR because Sebastian deserved to be number one this year.
A day of freeskiing was ahead of him but an hour after the call to his dad he crashed in the terrain park at Park City Mountain Resort. It was no ordinary crash, it was far more serious. Leyton was intubated immediately on the hill minutes after the crash and was airlifted to the University of Utah Hospital in Salt Lake City.  Leyton suffered a severe traumatic brain injury, an orbital fracture, and he was not responding to verbal commands, nor was he able to breathe on his own. Due to the amount of swelling and bleeding, Leyton underwent surgery immediately to relieve brain pressure.
 
The first 72 hours after surgery was critical. Once Leyton passed the 72-hour mark and the pressure levels in his brain did not decrease, the doctors prepared the Sheppards for the worst. After eight days in his coma with no progress, the doctors took more aggressive measures and paralyzed his whole body. After several more days, there were still no signs of pressure relief from the paralysis and the doctors were contemplating more extreme measures. If needed, the next step would be to freeze his body or remove a portion of his skull. Fortunately, the pressure in his brain started to drop and Leyton started to wake from his coma on his 15th day at the University of Utah's Neurosciences Critical Care Unit. Leyton's fairytale season took a sharp left turn on that March day.
A SKIING FAMILY
Leyton's path to this season was decidedly non-traditional and his determination to pursue his own path has helped him on his road to recovery. His story though is not all about this recent injury, and in it is something many families of young racers can relate to. It is the story of passion for skiing, sparked at a young age and how a family, in fact a community will rise to support that passion.
Leyton is the oldest of four Sheppard children; he's a twin and his three siblings share the ski racing bug. The Sheppards lived in the flatlands of New Jersey and got their first taste of the sport through an unforgettable family experience in Canada. Leyton's parents decided to take a trip to Mont Tremblant. "It was so memorable, we decided to make it a priority for our kids," his father, Andrew, remembers.
The Sheppards invested in a time-share in Mont Tremblant and made a nineteen-hour round-trip haul every month from New Jersey. In 2009 they discovered NASTAR at a ski area in the Poconos and it grew into a family obsession. "All six of us could race as a family, winning medals and lowering handicaps was just so exciting," says Andrew.
The Sheppards were hooked on NASTAR and ski racing and the next ski season, all six of them joined ski programs at Mont Tremblant and made the nineteen hour round trip haul every single weekend. They would start the drive on Thursday evening, race NASTAR at 7pm at Blue Mountain, race NASTAR at Windham Mountain or Hunter Mountain on Friday, ski in their programs on Saturday and Sunday in Mont Tremblant, and then head home. This went on for 15 straight weekends until one of the Sheppard children asked why they couldn't live closer to the mountains. At just 6 years old, Leyton and his twin brother Sebastian were trying to figure out how to spend more time on snow.
Andrew consulted with NASTAR Director, Bill Madsen, and decided Park City was the best fit. They headed west in 2010 and signed the kids up for the Park City Ski Racing Programs with access to more vertical, better snow, and a vibrant ski community. Leyton was living his ski racing dream and was hyper-focused on becoming a better racer.
"Getting to that first race and seeing that the kids could hang and how much fun we were all having was really special," Andrew remembers of that first year in Park City. "We knew it was the right move."
Leyton continued to improve, but this past season, at the age of 15, Leyton threw his parents a ski racing curveball that forced a major change in perspective. He wanted to switch programs and move from the seemingly ideal environment of a major skiing hotspot and move to the Buck Hill Ski Team in Minnesota, a program Leyton was first introduced to when he attended Buck Hill's Christmas Camp in 2014.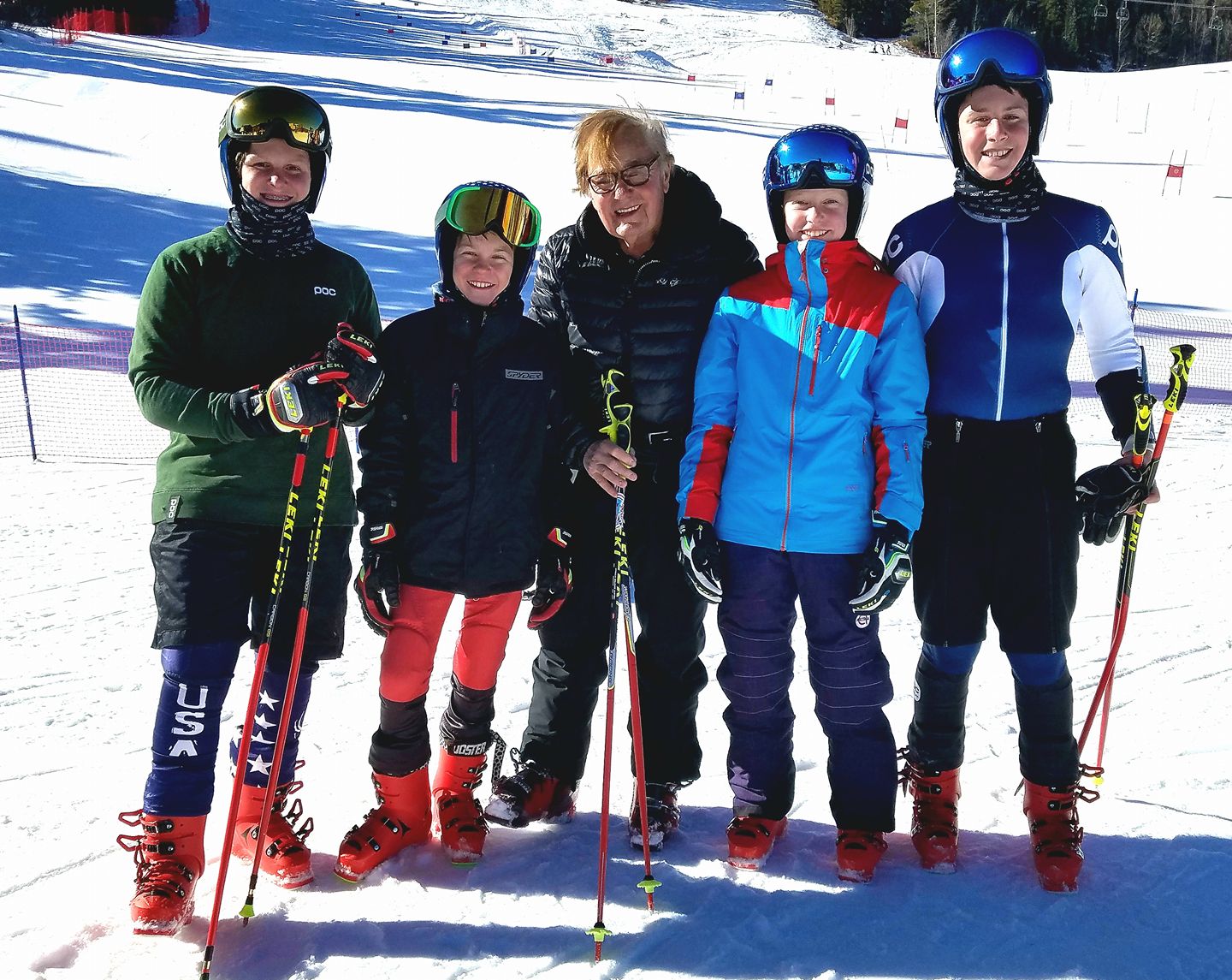 Andrew was stunned and told his son, "You realize where you live, right? You live in a town with some of the best skiing in the world."
Leyton was not diverted from his Buck Hill objective. Despite his father's reasoned objections, Leyton replied with logical and reasoned responses for the move as they continued the conversation every day. His reasons made complete sense: he connected with all the coaches at every camp he attended, specifically former Olympian Tasha Nelson, and the small hill allowed for mileage and constant coaching feedback. Most significantly, the culture felt right to him.
After finally convincing his dad, Andrew made a phone call to Buck Hill's Head Coach, Jacob Olsen.
"It started with a phone call from some guy in Utah with a heavy Bronx accent," Olsen remembers. "He started telling me about his family, and how is son Leyton really wanting to be a part of the Buck Hill ski team. I immediately thought to myself, 'This guy is nuts!' Here is a kid living in the mountains and he wants to come to the Midwest to become a better ski racer, and even more crazy is that his mom and dad fully support sending their 15-year-old son 1,200 miles from home and family to train on a 300 vertical foothill. But as our conversations continued into the fall, I could see clearly that Andrew and, more importantly, Leyton was not going to let this go."
THE MOVE
It happened. Andrew Sheppard made another life-altering decision for ski racing, but this time, it didn't involve the whole family. Leyton joined the Buck Hill Ski Team for the 2018-19 season and he and Andrew spent the season in Minnesota hotels or traveling all over the Midwest and Colorado for races during the season.
"I would check in with Leyton from time to time to see how he was managing this nomadic lifestyle and he would always respond 'It's okay' with a little smirk," Olsen says. "I never once heard a complaint come out of his mouth. He was determined to make the most out of every opportunity to train at Buck and was not going to let anything get in the way."
Leyton had an outstanding first season as a Buck Hill Ski Team athlete. He continued to improve in slalom but made his biggest leaps in giant slalom, a surprise training on the slalom-centric bump in Minneapolis. Leyton competed across the Rocky/Central Region and had the best results of his career with 5 top-3 finishes, even landing on the top of the podium at the Central Championships.
Leyton had strong impressions of his season in the Midwest. "Everyone was so nice and all my coaches and teammates were so welcoming," he says. "Every training run I was just so excited to get to the bottom and hear what the coaches had to say. It was also great to be able to be coached by coaching legend Erich Sailer. It was just such a great experience this season, they were the best months of my life."
THE POWER OF COMMUNITY
After 45 days, Leyton left the hospital, a miraculous recovery to this point. However, there is still work to do and Leyton will continue to do physical and occupational therapy as he continues to improve. He's blown through his recovery goals, feeding off the support of family, friends, and the ski racing community. As word spread of his condition, people Leyton never met contacted him and helped provide the inspiration to keep working and continue to pursue his passion for ski racing.
"The support from the ski community has been unbelievable," Andrew says. "Over 500 people check Leyton's CaringBridge site for updates every day."
Several top U.S. Ski Team athletes have also heard Leyton's story and have offered support and encouragement, including River Radamus, Steven Nyman, Tommy Ford, Isaiah Nelson, and Lindsey Vonn.
The Buck Hill Ski Team and the surrounding community have also shown their love. The community embraced him when he arrived from West, helping with housing, transportation, and general support and they embraced his recovery by making a team video, sending photos, and providing continued encouragement. In his ninth day out of his coma, Leyton wrote on a whiteboard "Buck Hill is the greatest place to ski in the country." The love flows in both directions.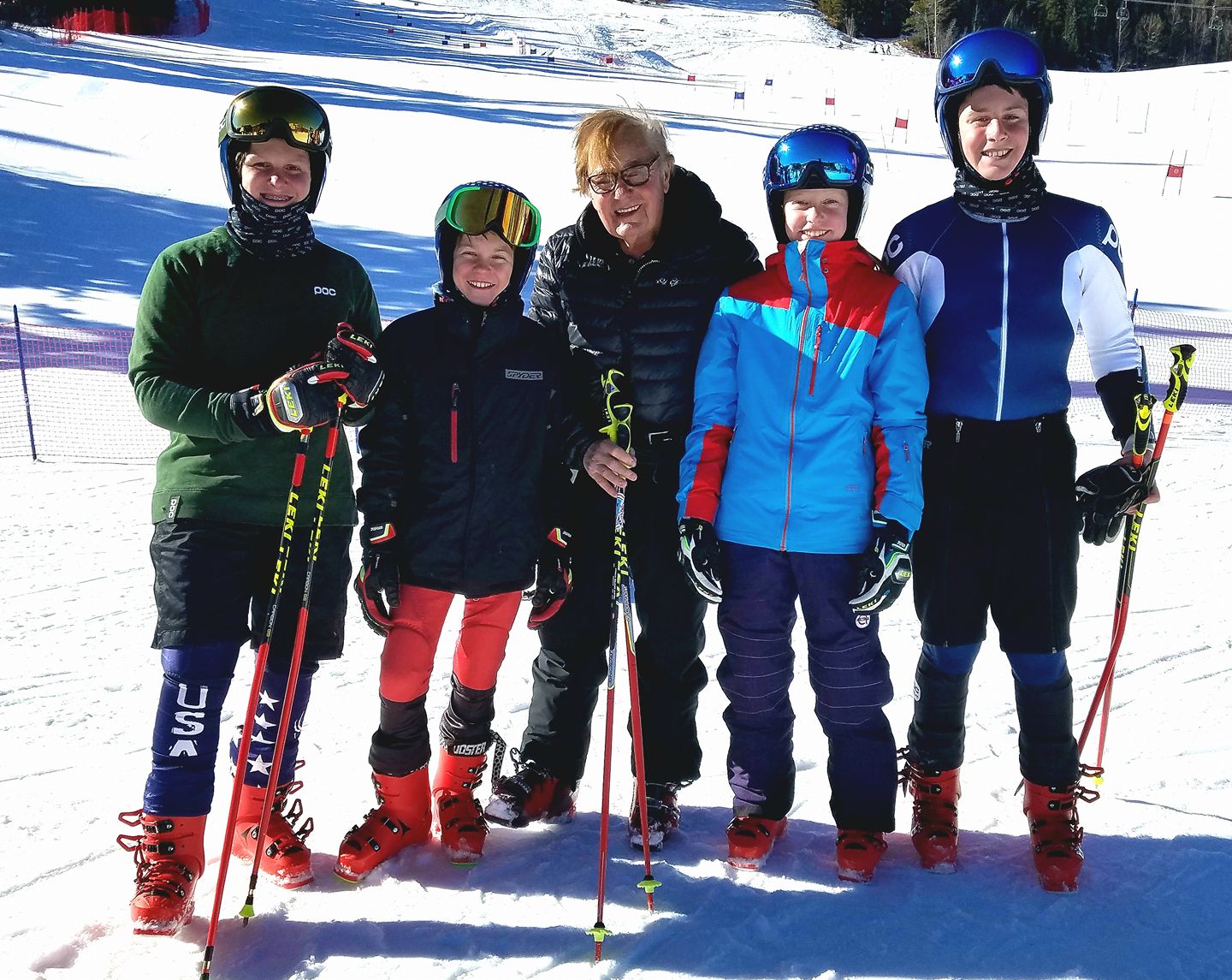 Leyton recently received the team spirit award at the Buck Hill Ski Team's year-end banquet.
"Aside from being a fantastic skier, Leyton is also extremely determined and polite," Olsen says. "He is also a teammate that is truly friends with everyone around him. He always stays for awards whether he wins one or not, and when he does, I could swear that he would somehow wash and iron his jacket before standing on the podium. He always looks tidy and professional when receiving an award. The conversations with coaches about Leyton always end the same way; we are so happy to have Leyton on this team and the energy he has brought has elevated the whole program."
The Park City community has also rallied to help Leyton and his family as well by providing nightly meals, grocery shopping, and driving Leyton's siblings to school and all of their activities. Leyton's former Park City Ski Team members made "Racing for Leyton" stickers to support him at their championship races in Jackson Hole, Big Sky, and Breckenridge, this spring. Competing team members also wore the stickers on their helmets. All of the love, prayers, and support have been instrumental in helping Leyton recover.
There are many unique and exciting facets of our sport. It is stories like Leyton's that help to demonstrate that our shared passion is about more than winning races and collecting medals. It is about building a community, supporting one another through thick and thin, setting goals, and never giving up the fight to pursue your passion.
To learn more about Leyton's recovery, visit his Go Fund Me website. 
To watch a touching video made by Buck Hill teammates while Leyton was in his coma, view here. 
NASTAR is a proud partner with Ski Racing Media, the leading international media company in alpine skiing, providing industry expertise, storytelling, and education. As an independent community-supported media company, Ski Racing Media guides the community through informative writing, photography, and video. To read more articles like this one, become a Ski Racing Media Premium Member and subscribe today. Click here to learn how to sign up.