107 Year Old Ski Racer Leaves a Community Inspired
04.17.2018 |Megan Ganim

The ski community celebrates the memory of a dedicated skier who passed away February, 2018. Lou Batori left behind a myriad of enthusiastic skiers and incredible memories. The Crystal Mountain Resort, MI renamed their NASTAR race hill, Cheers to Lou, to honor the late Lou Batori who passed away at age 107. 
What is it that made Lou such a special guy?
"Last year Daron (Rahlves) and I got to spend some time with Lou when we were at Crystal Mountain," reflected NASTAR Director Bill Madsen. "He loved a good martini and his stories got longer and more detailed with each cocktail."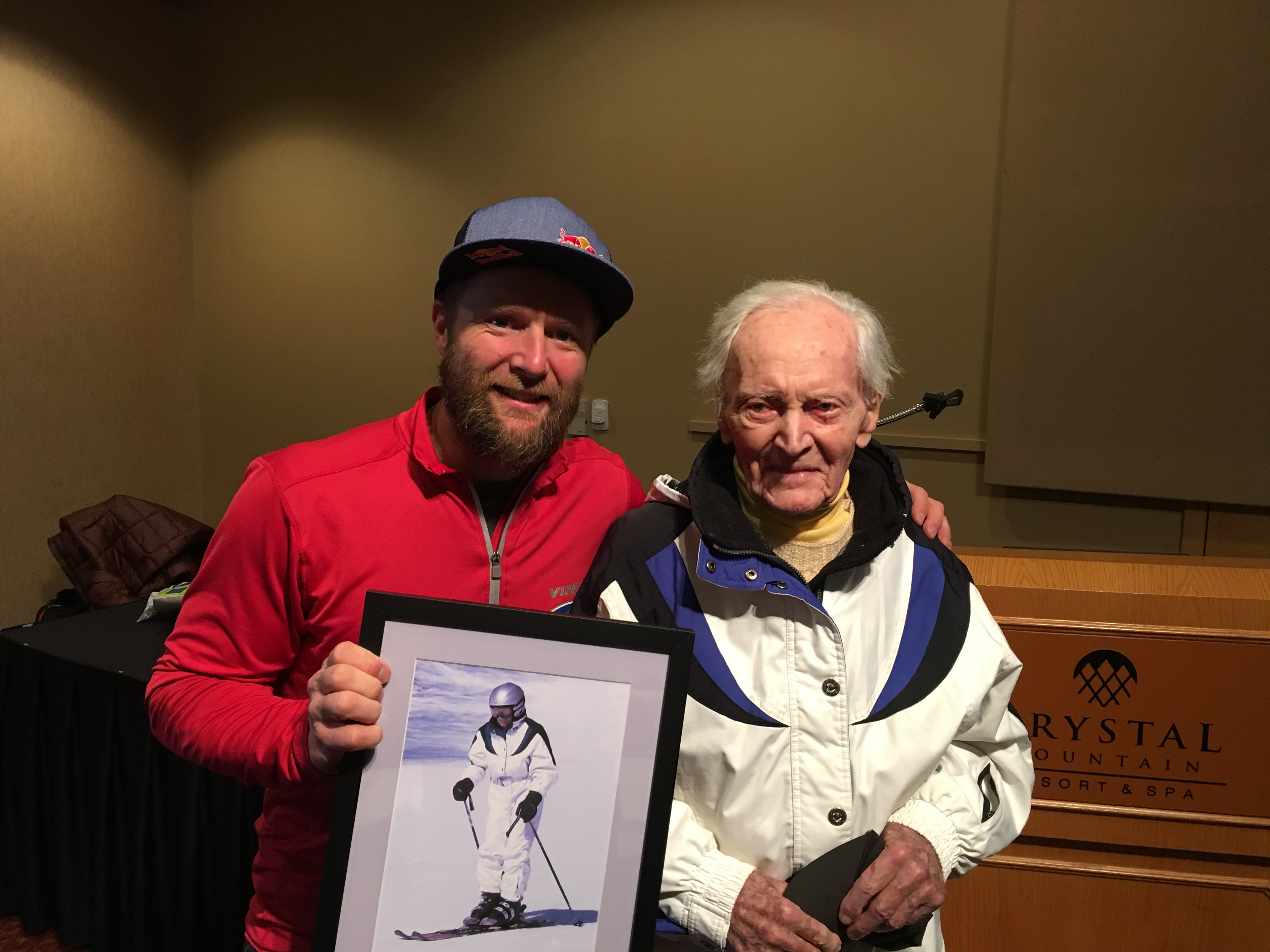 Lou started competing with NASTAR early on and with each new decade, after he turned 80 years old, Lou would petition to create new age groups. In the past, NASTAR age categories only when up to 80 plus but not if Lou had anything to say about it.
"When Lou turned 90 he called me and said that we should create another age group for 90 plus," said Madsen. "I was happy to abide. When he turned 95, he called again asking to create another age category and when Lou celebrated his 100th birthday, my phone rang again and once more when he turned 105. He was always such a gentleman and so friendly. It was a pleasure to have him involved with the NASTAR program."
Batori was easily recognized on the ski hill in his white ski jumpsuit and silver helmet. A Hungarian Immigrant with a degree from Massachusett Institution of Technology, he learned to ski very early on using a pair of wooden skis with leather straps as bindings. Can you imagine that today? And this is also the man who was known to give advice on his secret to life's longevity with a grin followed by remarks about picking your parents very carefully, marrying a good woman and making sure to drink only the best alcohol.
Into his late 90's he and his wife Judith rode across the country on their motorcycle and he even was out riding his road bike into his 100's.
"You don't see this kind of energy with people a quarter of his age and it's contagious," said Director of Public Relations at Crystal Mountain, Brian Lawson. "It's a rare opportunity to sit down with somebody who's experienced so much in their lifetime. I think a lot of people get caught up with the '107 year old is on skis' thing, but what I've learned just from being around Lou is that the most impressive part is less about the number of years he lived and more about the appreciation with which he lived every day. He rubbed off on everybody else in our community."
Lawson, from the farmlands of Indiana, attributed his career in the ski industry to Lou. After bumping into Lou in the rental department of Crystal Mountain when Lou was 86 years old, it was his passion and enthusiasm for skiing that reminded Lawson to stick around this whole "skiing thing" for a little bit longer. 
At the Liberty Mutual Insurance NASTAR Nationals, the NASTAR staff awarded the most veteran competitor of the race, Gilbert Fujimoto, with the first annual Lou Batori award. Although Fujimoto explained that he laughed when he read 'most veteran' on his trophy.
"I guess that's what they like to say instead of the oldest racer," said Fujimoto. "I don't feel very old I must admit."
Most years, Fujimoto gets to ski about seven days total, but has taken to NASTAR because he gets to improve his skills not just in skiing but also learning to maintain control and do so gracefully with an edge of competition.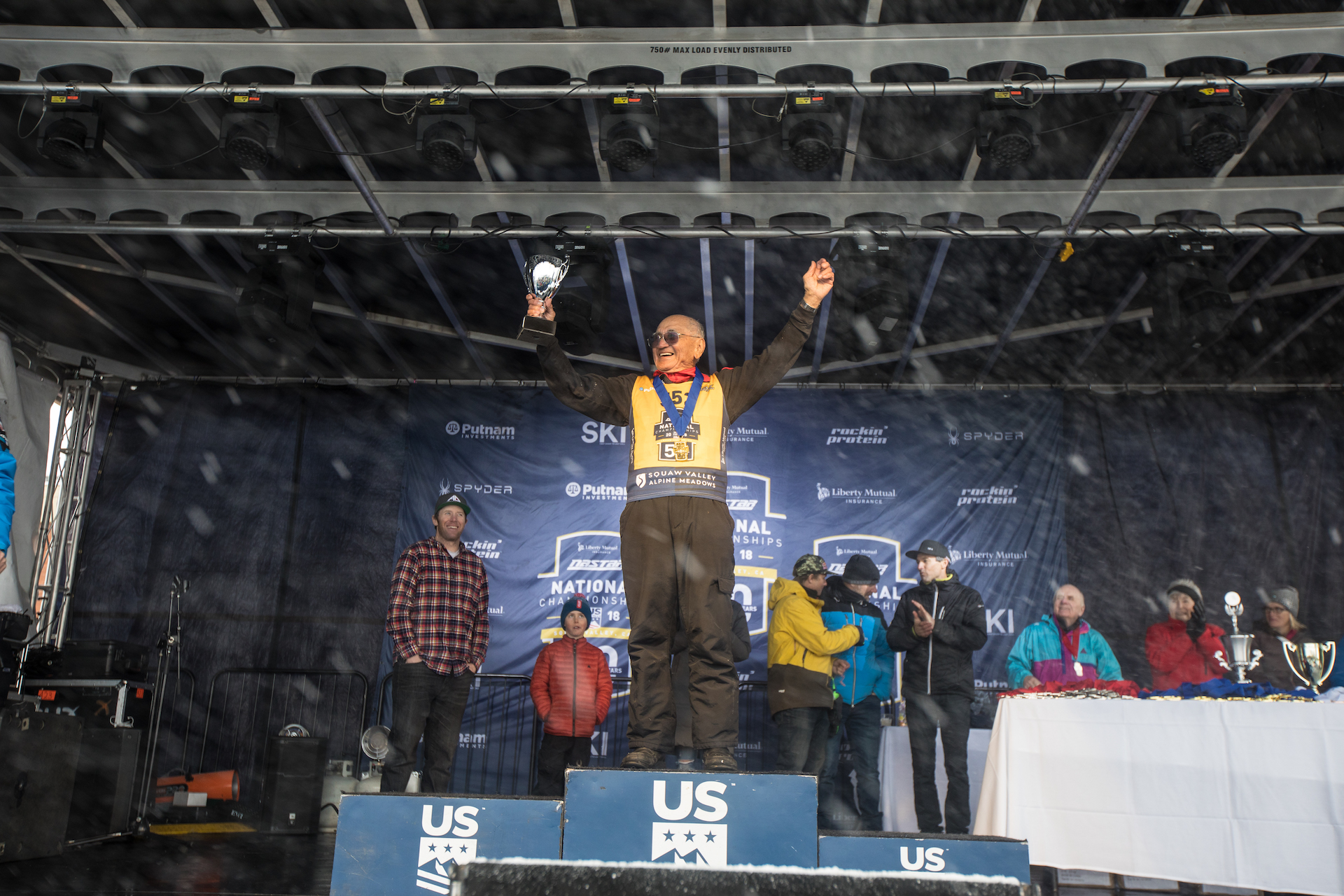 "After I received the award I did some research about Lou and found out that he was a very interesting individual, said Fujimoto. "I even found a video of him skiing at age 106, he must have been so extraordinary. At age 100 he was walking and dancing and doing it so gracefully!"
Fujimoto lives in Huntington Beach, California and is apart of a local ski club called the Wonderlust Skiers. The group gets together and selects two to three ski locations each year to travel to together. They've traveled all over the U.S. to ski and even Europe on an occasion.
"That's how I got involved in this NASTAR situation," said Fujimoto. "There were two members who were invited to Nationals years back in Park City and one suggested I do it too. He and I have since been neck and neck for our club trophy every year."
Fujimoto wants to continue skiing the same as Lou did into his 90's. He still gets out and jogs and rides his bike. Up until about four years ago, Lou was competing in century bike rides to keep up his physical condition. He laughed and explained that he used to go scuba diving with his grandkids until he had to stop because it was making them too nervous.
And once again ladies and gentlemen, that's what we like to call the beauty of NASTAR.