Meet Trish O'Brien
02.05.2019 |Ski Racing Staff

Authors' note: Hello, NASTAR racers! This is Tricia Mangan and Nina O'Brien! We have both always loved reading stories about other athletes and insights from life on the road as a ski racer. We hope to contribute to the conversation by adding a unique column of our own. We want to provide content through a new lens, via athlete-to-athlete collaboration, and we hope that this opens up the possibility for new material, which is sometimes personal, sometimes humorous, and sometimes somewhere in between. Thank you for reading and please feel free to submit any suggestions for pieces you would like to read.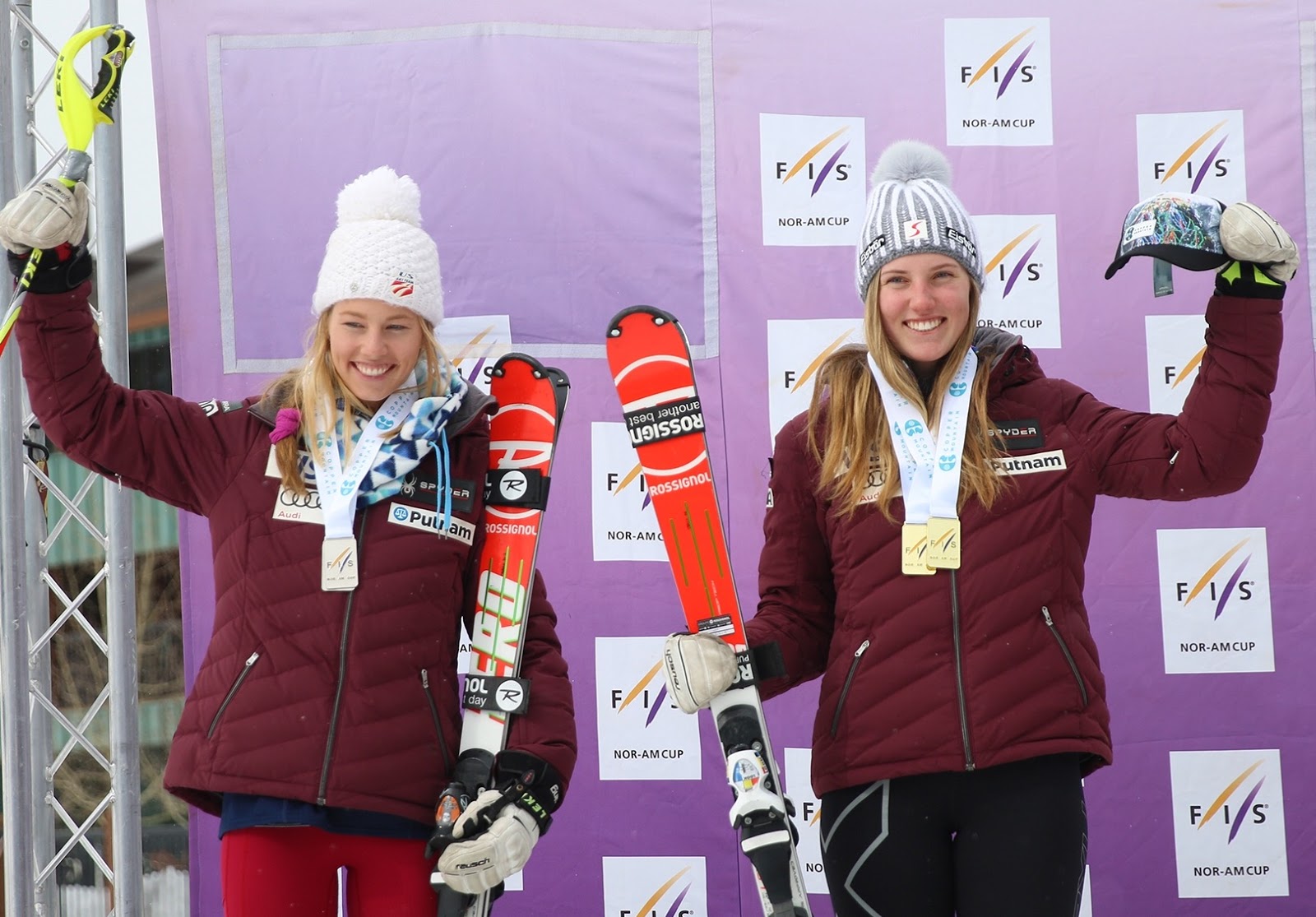 Trish O'Brien. Who is she?
Trish O'Brien was officially introduced at the 2018 U.S. Alpine Championships when Nina won the super-G. Everyone was crowded into the town square in Sun Valley, Idaho, waiting for awards while Steve Porino of NBC Sports was on the loudspeaker reflecting on the day. In the middle of his speech, he said, "When you're looking up at the hill wondering how you're going to beat Trish O'Brien, remember that just being here is a huge accomplishment."
All the athletes laughed at this mishap and jokingly commented, "Trish O'Brien! Who is she?" However, we can't blame Steve Porino for the confusion because it happens all the time. Coaches, teammates, and friends constantly call us by the wrong name. We've had technicians spend an entire season with us and still not be able to tell us apart when clicking us into each other's skis. With rotating physios, we've given up hope. Is it Tricia or Nina on course? We know it's hard. However, we were surprised when even FIS mixed us up on a World Cup live stream in Lenzerheide, Switzerland, last season. To be fair, we started back to back, but we couldn't help but laugh when Tricia pushed out of the starting gate with Nina's FIS picture on the big screen.
After all the mix ups, we've come to embrace our dual identity as Trish O'Brien. That said, if you're curious to know about who we are as individuals, friends, and teammates, read on. This first piece is an introduction to us, but after this we promise to shift our lens toward other athletes and stories throughout the season.
Tricia, by Nina:
I met Tricia at a U16 national downhill camp in Beaver Creek, Colorado. Neither of us had ever skied downhill before, and we were running the Birds of Prey World Cup downhill course on our super-G skis. Needless to say, we were in way over our heads. I remember sitting on the chairlift together, dreading my next downhill run, when Tricia finally asked, "So, do you think this is fun?" Thank God, I thought. I was so relieved to make a friend who was just as terrified as I was.
Over the past five years as teammates, Tricia and I have come a long way together. We began with 990 FIS points on the National Training Group and slowly worked our way onto the World Cup tech team. We're now headed into our sixth season as teammates together and our fourth year on the U.S. Ski Team. After all that time, I can honestly say that I've been very lucky to have Tricia as my teammate.
A lot has changed over the years. We finished high school, started our first World Cups, began studying at Dartmouth, and even learned to stand on our outside ski (it's a work in progress). However, some things haven't changed, and probably never will.
Tricia still explodes her duffle bag on every hotel room floor and forgets our room key every other day. She still loves a good French toast breakfast on a day off, and a non-fiction book on a long drive. From the start, Tricia was always very in tune with her equipment. From racing a NorAm on fully waxed super-G skis, to forgetting her shin guards at training, Tricia has always been able to tell when something isn't feeling quite right. She's still the team joker, always down for a prank, and she's there to make you laugh when you're feeling down. She'll share homemade treats on the road (thank you Mary and Mrs. Mangan!), and she always remembers everyone's birthdays. But most importantly, if you know Tricia, then you know that she's still sending it. In every run, every day, and everything she does, Tricia is always giving it her all.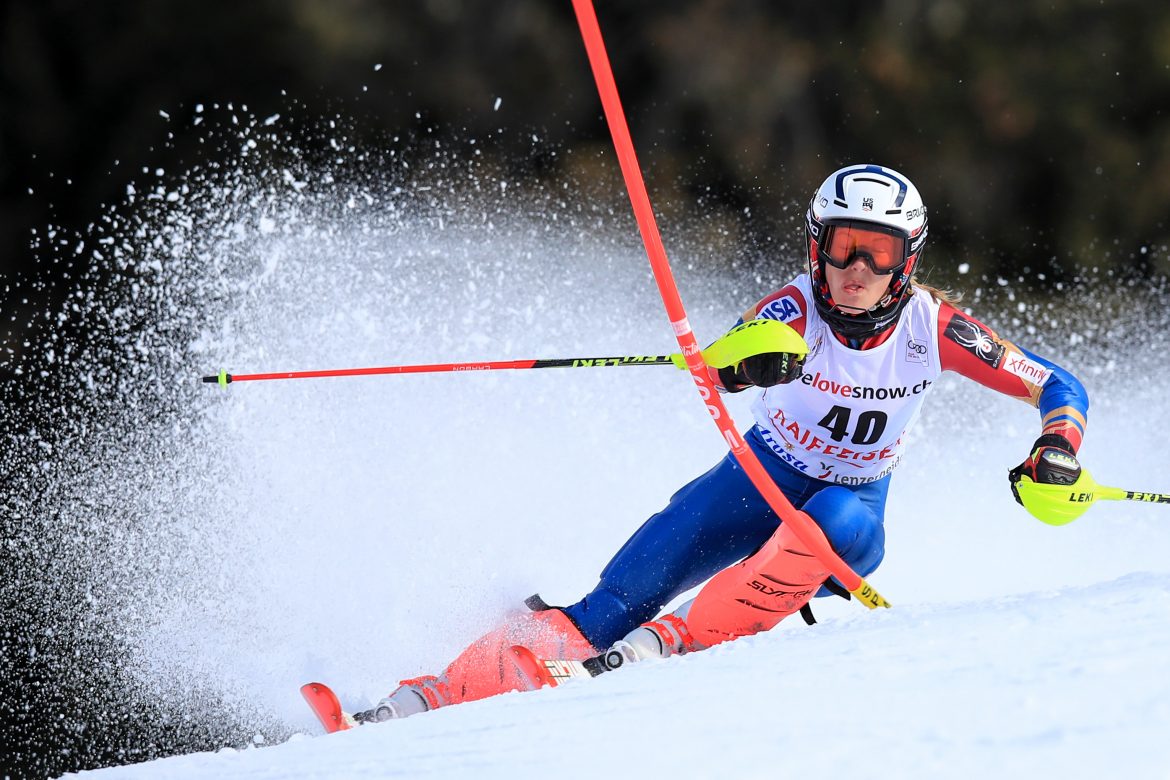 Despite her old habits, I've also watched Tricia grow over the years. After five years, two broken noses, 20 stitches, and numerous fat lips, I can finally say that Tricia has learned how to put a chin bar on her helmet! She's also figured out how to beat me in hearts, learned to skateboard, and discovered her new appreciation for matcha lattes.
One of the coolest moments that I've shared with Tricia was watching her score her first World Cup points last year. We were at an alpine combined World Cup in Lenzerheide, where Tricia and I started back to back, with bibs 40 and 41. I remember warming up at the start together and noticing how fired up Tricia was. She was in that amped up mood where it either goes really well, or she explodes half-way down the course. Watch the Killington World Cup GS video embedded below for proof. I've learned that when Tricia is in that mood, you'd better just let her do her thing. She kicked out of the start with a grunt and skated furiously towards the first gate before disappearing down the course. Tricia crushed it that day. She moved all the way from 40th to 19th, grabbing her first World Cup points. Our entire team was smiling, we were all proud of Tricia's breakthrough. It was a perfect moment where her gritty attitude and natural athleticism came together in harmony. I can't wait to watch more of those runs.
Nina, by Tricia:
Nina and I are starting our sixth season as teammates this year and for this I feel very, very lucky. We have been on the same path for those six years and sharing the ride with someone has made it infinitely more enjoyable. Nina is an extremely reliable teammate and friend and has provided comfortable consistency during my often-unpredictable time with the U.S. Ski Team. She is silently determined and hardworking, very rarely gets rattled or upset, and can always be counted on to lift team spirits. I don't think Nina has ever missed a day of training except for when she broke her elbow, which only sidelined her for two weeks.
One of the times I was most impressed by Nina was when she got horrendous food poisoning in Sweden during World Juniors and was in the bathroom for a full 12 hours and still raced the downhill the next day (albeit a little white in the face).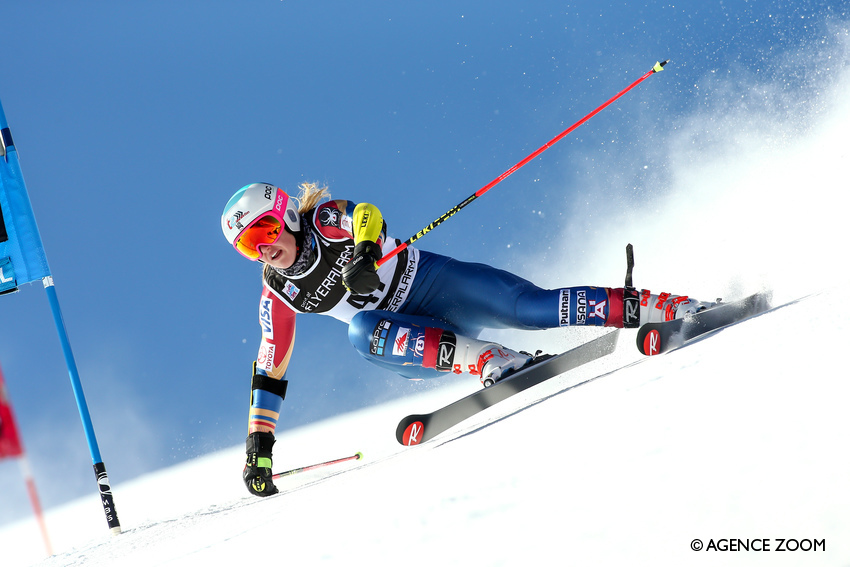 Having a teammate who is constantly pushing to get faster and work harder has been really inspiring for me. I think this was most evident when Nina won the 2015 U.S. Alpine Championship GS when we were only second-year FIS athletes. Watching her succeed not only gave the team the motivation and competitive fire to push harder and try to match her results, but it also gave us the encouragement that hard work does pay off, something that can be easily forgotten or questioned during tough times in ski racing. This is just one of the many times that Nina has raised the bar for me and the team as a whole. I think this role on a team is really under-appreciated because it's often hard to stay motivated when you're one of the fastest on the team, but Nina has always keeps pushing to get better which has obviously benefitted her own skiing. And mine too.
Nina is also an awesome team player who is always down for exploring. She has a terrible sense of direction, so this means trusting me to lead the way. A questionable choice, but one that she is always up for, which has led to some memorable adventures.
Although Nina and I are quite different, we have grown close through our shared appreciation for our experience on the U.S. Ski Team together. We have learned a lot about each other from being roommates for five years straight and have even acquired some of each other's habits and hobbies. Nina used to always stay clear of my pranking schemes because she is far nicer than me. However, this spring she took a page from my book and super glued everything onto my desk when I was away for a week! And after five years of me mooching off of Nina's shampoo and conditioner, she finally put her foot down this trip and didn't bring any. I'm also starting to learn how to unpack my duffel and Nina has learned how to get ready in less than fifteen minutes! So, maybe we are both becoming Trish O'Brien…
A Quick Guide to tell us apart:
In case you're still confused about how to tell us apart, don't worry, we can help. Here are a few quick tips:
If you see one of us drinking coffee: It's Nina
If you hear one of us talking to themselves in the course: It's Tricia
If you see one of us struggling to carry three pairs of skis: It's probably Nina, but sometimes Tricia struggles too
If you see one of us outwardly frustrated, like punching a slalom gate: It's likely Tricia, but no guarantees (slalom is hard!!!)
If you see one of us eating ice cream: 50/50. Who doesn't like ice cream?
If you see one of us still in our neckie and ski socks at dinner: It's probably Tricia, but no promises. Neckies are awesome!
If you see one of us trying to check a 40lb "boot bag" at the airport: It's Nina (works every time!)
If you see one of us with gummy bears: It's Tricia, she loves her chewy friends 😉
If you see one of us with a fresh outfit half way through training camp: Neither of us! Laundry is hard to find on the road  🙁
If you see one of us in a U.S. Ski Team Speed suit, black training shorts, Rossignol skis, Leki poles, complete with POC helmet and goggles: 50/50. Good luck. We're not even sure, sometimes.
For more premium stories like this one, visit www.skiracing.com