NASTAR & Outside+
02.07.2023 |Nastar Editor

Why is NASTAR moving to a membership model with Outside+? 
NASTAR has historically been supported by a title sponsor but a decline in sponsorship has created a challenging business model for long-term sustainability, and we want to change this with your help.
This year, NASTAR has chosen to move to a membership model to sustain our program for future generations. With your support, we look forward to continuing to introduce people of all abilities to the sport of alpine racing and bring greater participation and awareness to the sport. Our goal is to get everyone outside and to motivate participants of all ages.
We would like to see participants racing as much as possible so they can use their stats to improve their skills and qualify for the NASTAR National Championships. The National Championships provide racers of all ages and ability levels the opportunity to compete for national titles and prize money at Snowmass, CO April 3-8, 2023.
As a NASTAR member with an Outside+ subscription you will have access to all results, rankings and Outside+ benefits.
Moving forward, you will need a paid Outside+ membership to: 
Get full access to all historical NASTAR results and rankings online

Be eligible for the NASTAR National Championships in Aspen Snowmass on April 3-8, 2023

Earn badges for participation

Create buddy lists to follow family, friends and competitors
Get notifications via email of text when:

You post a new result
Your buddies post new results
You earn a new participation badge
Your buddy earns a new badge
You qualify for the NASTAR National Championships
Please note: If you have children or a spouse racing this season, you can sync their personal NASTAR accounts to one Outside+ subscription.
An Outside+ subscription includes:
Full digital access to content across the 15 sites in the Outside Network 
Access to award-winning films, series and live events on Outside Watch
Premium backcountry & navigation apps

Gaia GPS Premium ($40 Value)
Trailforks Pro ($36 Value)

Expert-led online courses on Outside Learn
Additional benefits like discounts, Warren Miller event perks, and more.
In addition to unlocking all things NASTAR, Outside+ includes benefits across the 30+ brands in the Outside Network—from streaming access to U.S. World Cup ski and snowboard events* (and 50 Warren Miller films!) and unlimited digital content, including skimag.com.
How do I sync my NASTAR membership with my Outside+ account? 
Log in to your NASTAR account with your NASTAR ID and password. Then toggle to "Results" and click the link on the bottom of the results page within your record to sync your NASTAR account.
Need to log in to your race record? Visit this link to log in.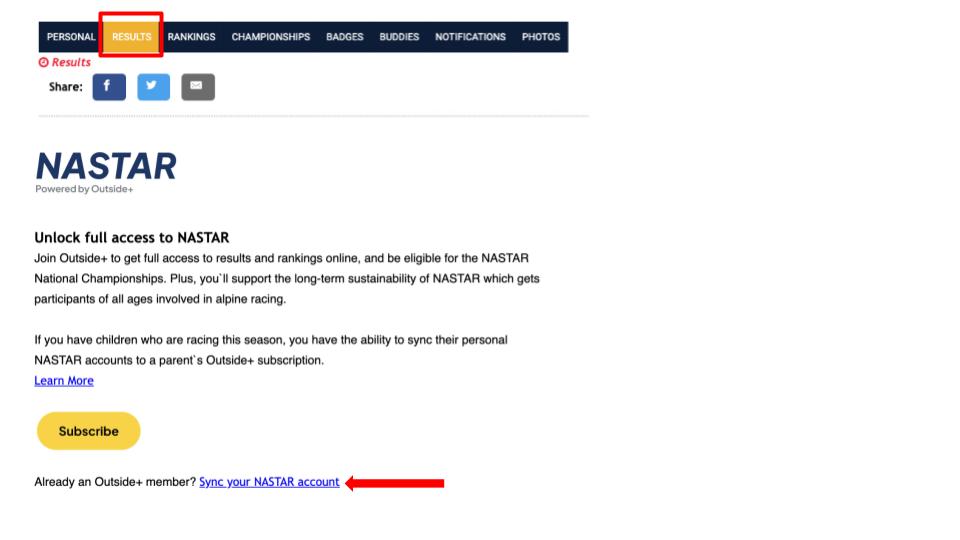 *Live and on-demand streaming of U.S. World Cup events available to view in U.S. Only.