NASTAR Returning Resort Franchise
05.18.2018 | Bill Madsen

2018-19 NASTAR
RETURNING RESORT FRANCHISE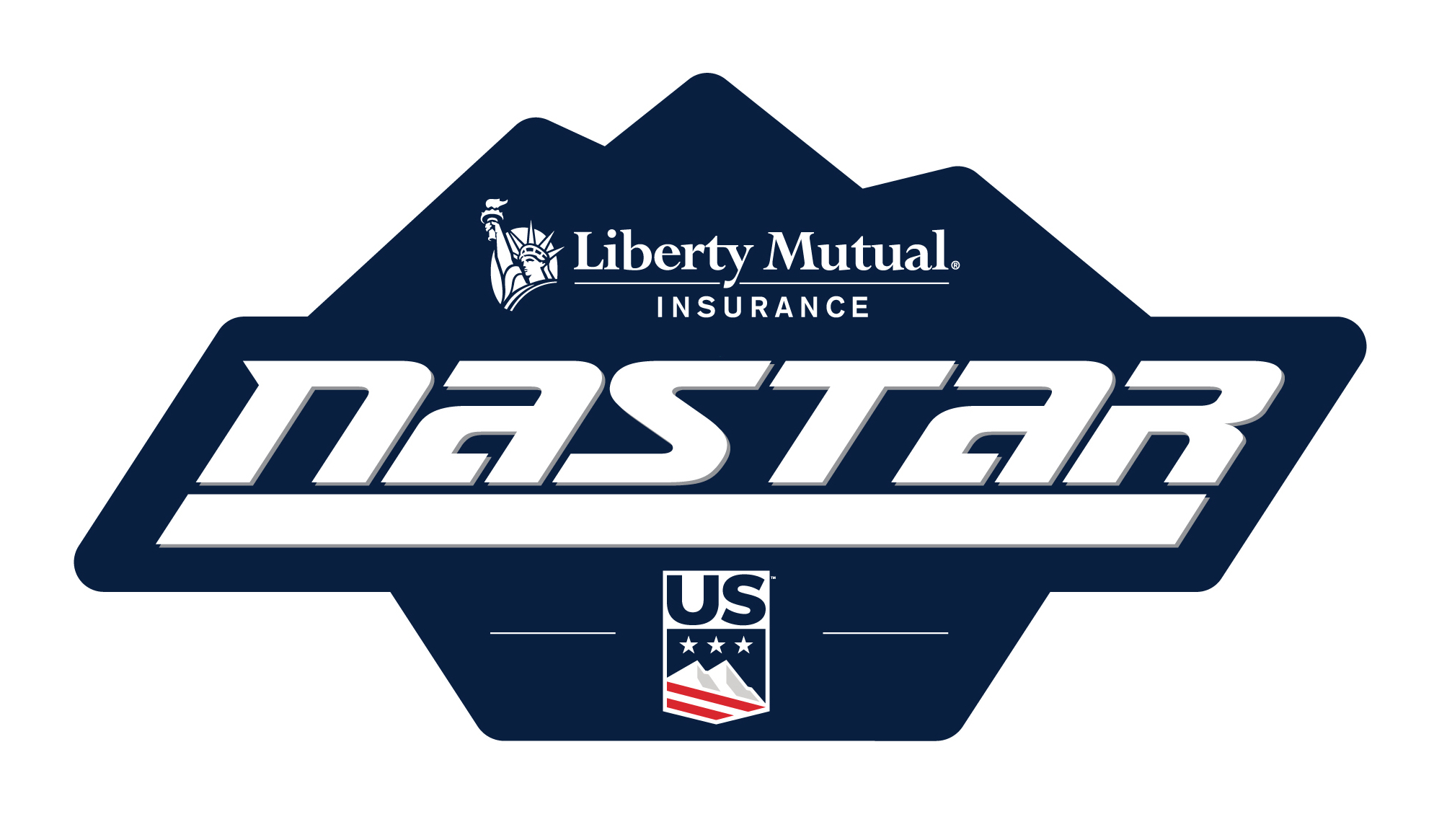 Sign-up by Oct. 1st and save
(Click the links above to join NASTAR. Download, execute and return the contract, order race course materials and complete the information form)
RESORT FEE
NASTAR Resort Franchise Fee:  $2,100
Contract must be received by October 1st via Email or US Mail
An invoice can be mailed upon receipt of the contract
Resort must name NASTAR as an additional insured on their certificate of insurance
Franchise fee does not include the cost of medals. NASTAR medals must be order through Lasting Impressions: Cheryl 800-767-9577, info@lastingimpressionspins.com
Make Checks Payable to:    U.S. Ski Team
Mail to:
U.S. Ski Team
Attn: Bill Madsen
1 Victory Lane
Park City, UT 84060
970-923-6278
bill.madsen@usskiandsnowboard.org
-To register by Oct. 1, 2018. U.S. Ski & Snowboard must receive an executed contract, materials order form and resort information form.
After October 1st, NASTAR Resort Franchise Fee:  $2,250
---
NASTAR = NATIONAL STANDARD RACE
The NASTAR program is operated by U.S. Ski & Snowboard and it is the premier youth feeder program for the U.S. Ski Team.
Participants earn Handicaps based on their ability and they can win Platinum, Gold, Silver and Bronze medals embossed with the host resort's name.
Each racer is given their own web page to monitor their results and rankings (sample).
NASTAR Resorts are listed online:
All NASTAR resorts are listed online under the RACE tab at nastar.com.
A link to the host resort's website, contact information and race schedule is listed online. 72,192 average monthly page views.
We encourage host resorts to create a NASTAR page on their website and link to their NASTAR results.
NASTAR e-Newsletter:
The NASTAR newsletter is sent to 30,000+ participants bimonthly and weekly around major events.
Features include: special events, participant news, NASTAR resort events, U.S. Ski Team updates and more
Ski Racing Magazine
SKI Magazine
SKI magazine, founder and media partner of the NASTAR program, promotes NASTAR through a season-long brand campaign and advertising schedule. SKI Magazine generates significant awareness for the NASTAR program and the host resorts by running five (5) program-specific 4C full-page ads throughout the season. 300,000 subscribers.
NASTAR promotional eblast
Social Media
NASTAR maintains a strong presence on Facebook, Instagram and Twitter. We work with resorts to share their posts and promote their programs.
Broadcast and Digital Content. U.S. Ski & Snowboard produces NASTAR specific content to be included in the broadcasts of Alpine World Cup on NBC and NBC Sports Network. U.S. Ski & Snowboard, in partnership with Ski Racing also produces NASTAR specific digital content throughout the season that is distributed via digital and social networks
RESORT PARTICIPATION
NASTAR supplies resorts with all of the tools necessary to host NASTAR races
Timing software, website, registration forms, bib numbers, gate panels, start, finish and race today banners, Pacesetter bib, coroplast signs and supplemental promotional information.
Host resort provides hardware
Gates and timing equipment.
NASTAR has developed an optional, low cost, RFID system to improve efficiency
The host resort collects and keeps all entry fees
There are recommended guidelines for pricing but the resorts' revenue is not shared with NASTAR.
Many resorts will sell a season pass to race their NASTAR course.
Live race results are recorded online during the race
Race staff must attend a Regional Pacesetting Trial to establish Pacesetting Handicaps
Each resort must have a minimum of two (2) Pacesetters with certified NASTAR Pacesetting Handicaps.
A Pacesetter's Handicap is used to set the National Standard or Par Time for each NASTAR race.
The Pacesetter's Handicap is divided by his/her time to establish the time that the National Pacesetter would have skied the course had he been there that day.
PARTICIPANT DEMOGRAPHICS

RACE VENUE
Each resort is ultimately responsible for the location and set up of their NASTAR race venue. NASTAR encourages resorts to place their race venue on a trail in a high-profile location (i.e. visible from a high-traffic lift or lodge).
Resorts have the option to set single or dual courses. Race courses should be about 350 meters in length.
NASTAR Giant Slalom (GS) courses must be set with 18-22 meters of space between gates vertically and 4-8 meters of offset.
NASTAR Slalom (SL) courses must be set with 10-12 meters of space between gates vertically and 2-6 meters of offset.
There are separate rankings for GS & SL races.
NASTAR encourages resorts to standardize their GS course(s) to have a Par Time of 23 seconds. Courses must be set so that no course is within 5% of the Cap Time. The Cap Time is defined as the time it takes a Pacesetter to tuck from the start to the finish of the course without going around gates and is the fastest possible time the venue will allow. This rule forces the course setter to put turns in the course.
Due to a number of variables at each resort, the look and feel of each race venue will vary according to the resort.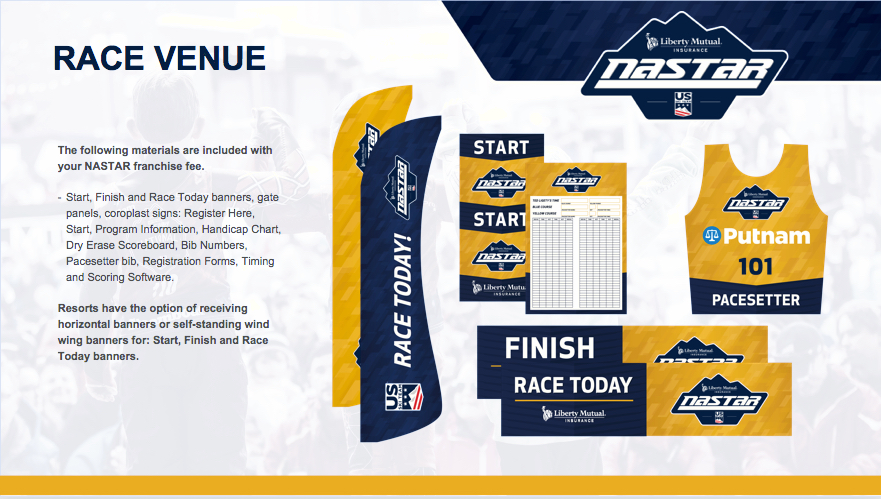 ORDERING RACE VENUE MATERIALS
If gate panels, banners or signs received last season are in excellent condition, alternative materials can be ordered.
NASTAR snow fence, barrier tape, finish line/photo cell pads and snowboard gate panels can be ordered.
Returning NASTAR resorts have the option of receiving alternative materials based on a point system.
Returning resorts are given 100 points to order NASTAR materials for their race venue.
Below is a list of materials that can be ordered as a returning NASTAR resort. Resorts are provided 100 points with the purchase of a NASTAR franchise. Points are used to order race venue materials.
Materials                                                                                                       Points
Timing & Scoring software                                                                (included)
Registration Forms                                                                             (included)
Participant bibs                                                                                   (included)
Gate panels                                                                           15 points (per set of 15)
Start, Finish & Race Today banners                                  10 points (per banner)
Register Here sign                                                                                5 points
Information sign                                                                                   5 points
Start panels (coroplast- horizontal or vertical)                                5 points ea.
Directional Sign (includes self standing banner frame)                 15 points
Dry erase scoreboard                                                                           5 points
Handicap chart                                                                                      5 points
Pacesetter bib                                                                                       5 points
NASTAR snow fence                                                                           50 points
NASTAR barrier tape                                                                           30 points
Finish line pad/photo cell pad                                                            20 points